VIDEO: CNN 'Caught Staging Muslim Anti-ISIS Protest' In Wake Of London Terror Attack [UPDATED]
Chris Menahan
InformationLiberation
Jun. 04, 2017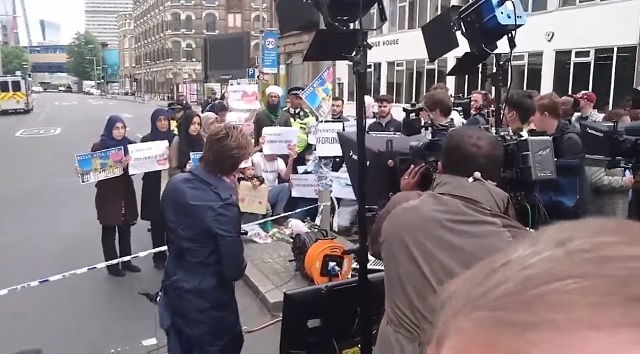 UPDATE: A bombshell report from the Middle East Eye released on May 22, 2019 revealed that these imams were part of a recurring UK government psychological operation aimed at "steer[ing] the public towards grief instead of anger" in the wake of terrorist attacks.

WATCH:



Was CNN aware of this psy-op and did they work together with the government or was this just one of those "coincidences" we hear so much about?

*Original article follows*

Shocking video out of London shows CNN corralling a group of Muslim woman and children for an anti-ISIS photoshoot.

The group was carrying printed signs saying "#ISISWillLose" and "#LoveWillWin."



The viral video was posted to Twitter on Sunday by user "Markantro."






The on-air host is CNN's Becky Anderson who descibes herself as the "Host of @CNNConnect" and "CNN Abu Dhabi Managing Editor."

Here's the video as aired on CNN:




BBC reportedly also used the staged backdrop:


Katie Hopkins noted the group was photographed all over London:


AP photographer Raphael Satter took photos of the group. AP used one of the photos in their article, "Attack brings out the best in London's Borough neighborhood."




CNN's Brian Stelter tried to defend CNN's actions hours after the video went viral by saying they and others "simply filmed" the demonstrators after police "allowed" them through a cordon to "show their signs" to the media.


HT: The Gateway Pundit

Follow InformationLiberation on Twitter and Facebook.