SJW Students Walk Out On Pence Commencement Speech At Notre Dame
Chris Menahan
InformationLiberation
May. 21, 2017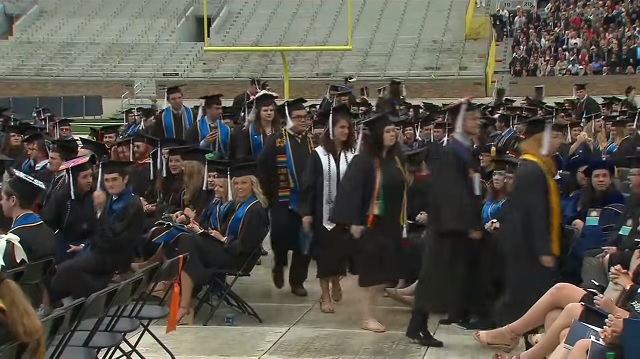 Several dozen SJW activists walked out on Vice President Mike Pence's commencement speech at Notre Dame on Sunday.

From the looks of it, they could use the exercise.




From NBC News:

Dozens of students at the University of Notre Dame walked out of their commencement ceremony Sunday when Vice President Mike Pence took the stage — in protest of the administration and policies he represents.
Translation: to virtue signal.
Some members of the larger crowd cheered the walk-outs on, while others booed the students who marched out of gates 27 and 28 of Notre Dame Stadium during the school's 172nd commencement. The walk-out came before the students received their degrees, and they were not allowed back in, officials said.

The move was not totally unexpected, since the student organization WeStaNDFor had shared their plans ahead of time. They believe that the politics Pence, the former Indiana governor who was raised Catholic, represented contradicted the Catholic social virtues Notre Dame extols.

"He has supported policies that have targeted the weakest and most vulnerable among us," said graduate student Luis Miranda, a member of the group, told NBC affiliate WNDU before the protest. "These are my classmates; these are my friends; these are our family members as well. We're standing up for them. We're standing up for their dignity."
Here's some pictures they shared afterwards so they could bask in praise on Twitter:



They said they held the walkout to further the Catholic tradition of fighting for LGBT+²BBQ-BLT-LETTUCE&TOMATO rights and whatnot.


Follow InformationLiberation on Twitter and Facebook.