Harvard Accepts Student's Rap Album As Senior Thesis, Says He'll Graduate With Honors
Chris Menahan
InformationLiberation
May. 19, 2017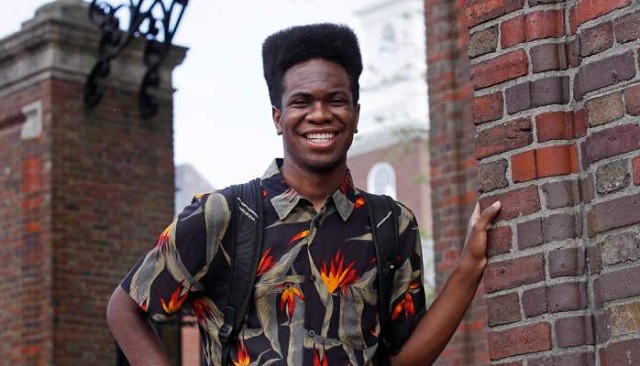 Obasi Shaw is slated to graduate with honors from Harvard University next week after handing in a mixed tape to the English Department in lieu of a traditional senior thesis.

From the AP:

BOSTON (AP) -- While other Harvard University students were writing papers for their senior theses, Obasi Shaw was busy rapping his.

Shaw is the first student in Harvard's history to submit a rap album as a senior thesis in the English Department, the university said. The album, called "Liminal Minds," has earned the equivalent of an A-minus grade, good enough to guarantee that Shaw will graduate with honors next week.

Count Shaw among those most surprised by the success.

"I never thought it would be accepted by Harvard," said Shaw, a 20-year-old from Stone Mountain, Georgia, a suburb of Atlanta. "I didn't think they would respect rap as an art form enough for me to do it."

Shaw describes the 10-track album as a dark and moody take on what it means to be black in America. Each song is told from a different character's perspective, an idea inspired by Geoffrey Chaucer's 14th-century classic "The Canterbury Tales." Shaw, who's black, also draws on the works of writer James Baldwin while tackling topics ranging from police violence to slavery.

...Harvard undergraduates aren't obligated to submit senior theses, but most departments require it to graduate with honors. Often it takes the form of a research paper, but students can apply to turn in an artistic work as a creative thesis. Some submit screenplays, novels or poetry collections.
You can listen to Shaw's rap album on dropbox. You can also read his "thesis," which is the lyrics to his rap songs.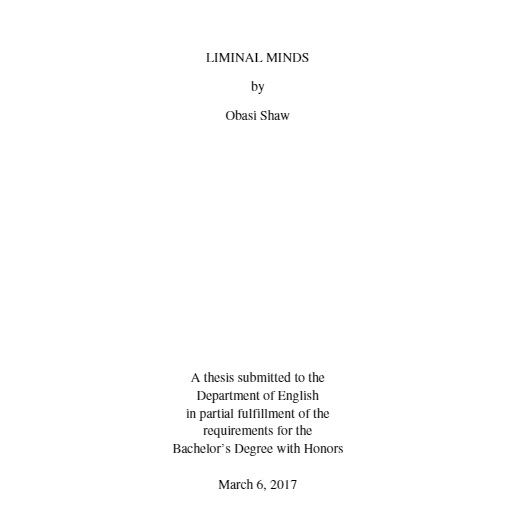 Here's a sampling of the lyrics from his opening track, "Declaration of Independence":

A nation due for inspection, this the audit, herein
Lies the fear in the eyes of our departed dearly—
Cold bodies facing .22, man in blue.
You can't refuse to take the cards the dealer handed you.
Life, Liberty, all the Ecstasy you can pursue;
Anyone can choose, but understand a n***er can't pick two.
Life, Liberty, all the Ecstasy you can pursue;
Anyone can choose, but understand a n***er can't pick two.
Understand a n***er can't pick two.
Shaw's story was also prominently featured in the Harvard Gazette earlier this week: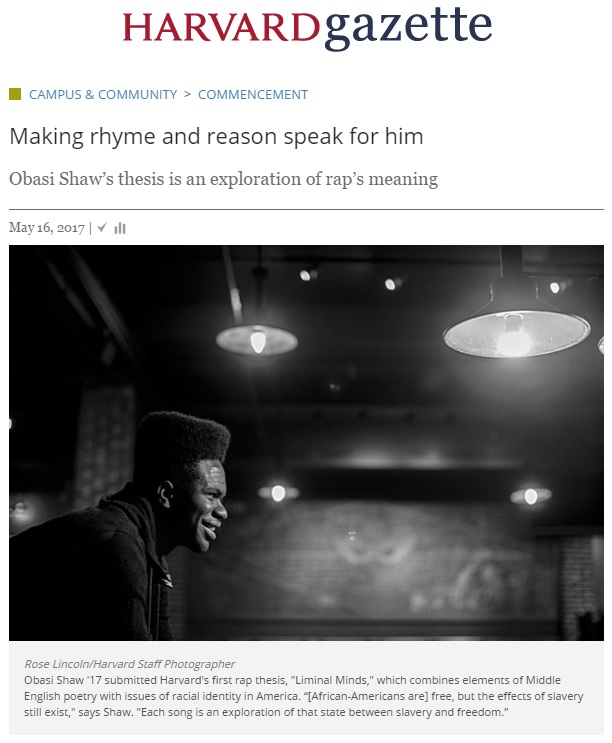 Don't let anyone tell you college degrees are losing all their value because standards are slipping. I'd say this story proves standards are higher than ever.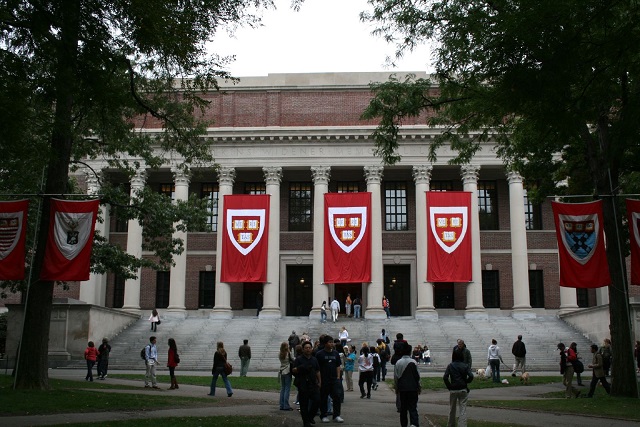 Follow InformationLiberation on Twitter and Facebook.