Obama Interferes In French Election To Stop Populist Marine Le Pen
Chris Menahan
InformationLiberation
Apr. 21, 2017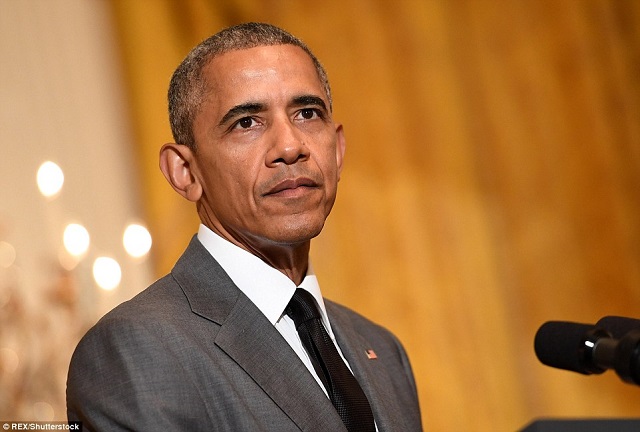 Despite Democrats' incessant whining about alleged "Russian interference" in the US election, Barack Obama chose to interfere in France's presidential election by calling up Emmanuel Macron and giving him an implicit endorsement just days before the vote.

Polls have shown EU supporter Macron is the main opponent of anti-EU right-wing populist Marine Le Pen and the two are in an extremely tight race. A call from Obama could potentially have the ability to sway the election.

From RT:

French presidential candidate Emmanuel Macron has made excerpts from a private call he received from former US President Barack Obama public. Obama's office has denied that the call, made just before Sunday's election, was meant as an endorsement.

Macron released an abridged recording of the call, which was made on Tuesday, on his Twitter account.


In the conversation, the former American president wished Macron "all the best" and advised him to work hard all the way through the campaign, because the last few days may make all the difference.

"I will fight till the last minute. And we will keep it in touch and our teams will liaison in order to organize a new contact and see how to work together if I am going to the run-off," the French candidate replied.

Polls forecast that Macron will be pitted against right-wing challenger Marine Le Pen in a second round of France's presidential election.


It was not immediately clear how exactly Barack Obama's "team" was helping the Macron campaign. The ex-president does not currently hold any elected office, but remains widely popular in America's Democratic Party, which is still reeling from a demoralizing surprise defeat in last year's presidential election.

The release of the phone call comes as the current American administration is still being accused of winning the oval office with secret help from Russia. Trump has lost several members of his team over allegations that they had undisclosed contacts with Russian officials during the election campaign.

Obama's office said his call did not constitute an endorsement of Macron.

"President Obama appreciated the opportunity to hear from Mr. Macron about his campaign and the important upcoming presidential election in France, a country that President Obama remains deeply committed to as a close ally of the United States, and as a leader on behalf of liberal values in Europe and around the world," his spokesman Kevin Lewis said.

"An endorsement was not the purpose of the call, as President Obama is not making any formal endorsement in advance of the run-off election on Sunday," he said.

Politico cites a source as saying that the call from Obama was made at the request of Macron, who wants to keep France's policies in line with the former US president's globalist vision. Vox says that Obama apparently hasn't been in contact with any of the other French presidential candidates.
It was clearly an endorsement, and it was clearly a case of election interference ten times worse and more blatant than that allegedly carried out by Russia.

Congress should launch an investigation.

Follow InformationLiberation on Twitter and Facebook.