Progress: German 'Barbie' Spends $63k On Tanning Injections And Breast Implants
Chris Menahan
InformationLiberation
Apr. 13, 2017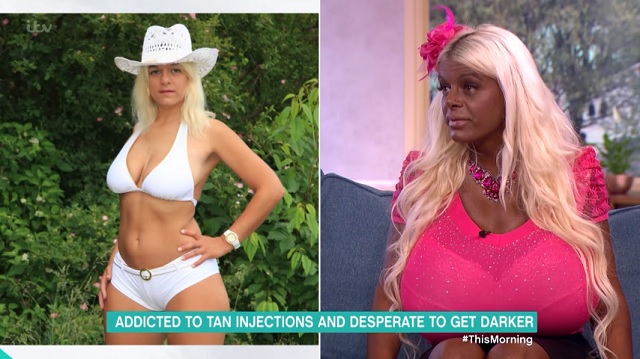 We're hitting levels of progress never before thought possible.

From The Daily Mail:

A German air hostess turned glamour model has spent £50,000 on surgery in a bid to transform herself into an 'exotic Barbie'.

Martina Big, who says she is 28 and a size 6, has boosted her breasts to a size 32S, and uses tanning injections and her own powerful 50-tube sunbed to achieve her 'dark, crispy brown' complexion.
Martina, who claims to have the biggest breasts in Europe, has unique implants that can be further 'pumped up' by injecting saline - and she says she plans to spend more on surgery despite her already extreme looks. 

The tanning addict once aspired to look like Pamela Anderson or Katie Price but has since decided they're 'not curvy enough', and says she wants to 'get darker and darker and see what the limits are'.

Martina first began dabbling with surgery in 2012, when her boyfriend encouraged her to take up modelling.
Nine weeks ago Martina had three melanin boosting injections that have turned her a deep shade of mahogany.

'I was not expecting to go so dark but it worked so well,' she said.

'I love it and I really want to push it to the extreme. Now I just want to get darker and darker and see what the limits are.

'I love the contrast of my bright blonde hair and my dark, crispy brown skin.

'I love seeing the reactions of people. I can see their big eyes when I walk past and their shocked faces, thinking "how is this possible?"'
This is what progress looks like, folks.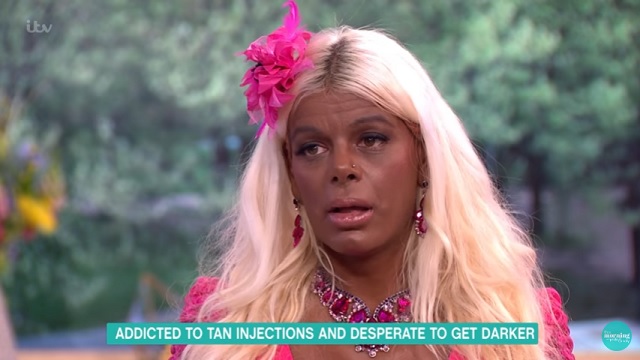 That's the face of a healthy and progressive society, free from male patriarchal oppression.

If she decides to become a man next week, that's her right and we need to support her, or him, or xer, or whatever. The point is if you disagree you're a bigot.

Follow InformationLiberation on Twitter and Facebook.