White House Releases 'Evidence' Showing Assad Behind Chemical Attack
Chris Menahan
InformationLiberation
Apr. 11, 2017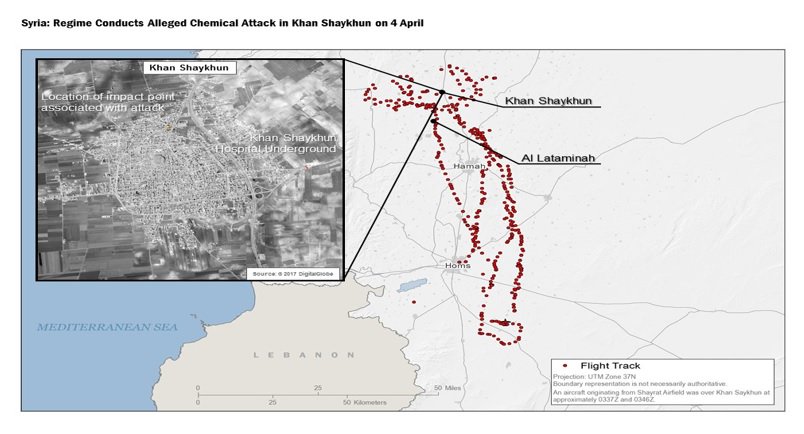 The White House has finally released some "evidence" they claim shows Assad's forces carried out last week's chemical attack.

Unfortunately, all the videos and satellite imagery cited in the report do not appear to have been released, so there's no way to judge almost any of it. We're basically still stuck with that picture above from last week showing a flight pattern.

Of course, the media couldn't care less about any of this and is just acting like it's case closed.

From The New York Times:

WASHINGTON — The White House accused the Russian government on Tuesday of engaging in a cover-up of the chemical weapons attack last week by Syrian forces that prompted American missile strikes, saying that United States intelligence and numerous contemporaneous reports confirmed that the Syrians used sarin gas on their own people.

In a declassified four-page report that details United States intelligence on the chemical weapons attack and contains a point-by-point rebuttal of Moscow's claims, the White House asserted that the Syrian and Russian governments had sought to confuse the world community about the assault through disinformation and "false narratives."

The strongly worded document calls for international condemnation of Syria's use of chemical weapons and harshly criticizes Russia for "shielding" an ally that has used weapons of mass destruction.

...Much of the report was devoted to rebutting Russia's claim that the chemical attack last week was actually the result of a Syrian airstrike against a terrorist ammunition depot in Khan Sheikhoun that contained chemical weapons. The report also cited a video and commercial satellite imagery that showed that the chemical weapon had landed in the middle of a road, not at a weapons facility.

White House officials said United States intelligence agencies do not believe that the Islamic State or other terrorist groups have sarin gas.
You can view the full document below.

They start off by saying they "cannot publicly release all available intelligence on this attack due to the need to protect sources and methods." Incidentally, the 2013 report from the Obama regime started almost the exact same way, and UN officials separately determined rebels were behind the attack.

While the new report cites all sorts of videos and satellite imagery, none of it is contained in their report and I can't find their sources anywhere. A look on WhiteHouse.gov shows there was a background briefing given about this report, but they're not releasing video of it, only a transcript with a name reading, "SENIOR ADMINISTRATION OFFICIAL."

If you read their report, just like with their briefing, no one was willing to put their name on it. While some of what's cited sounds compelling, again they don't provide the video or photographic evidence, so it's not really possible to judge either way. If they're not even going to show their evidence I don't know how they can expect the public to believe it.



Follow InformationLiberation on Twitter and Facebook.