Tucker Carlson: 'Republicans in DC Hate Trump,' Fear He'll 'Drain the Swamp'
Chris Menahan
InformationLiberation
Mar. 07, 2017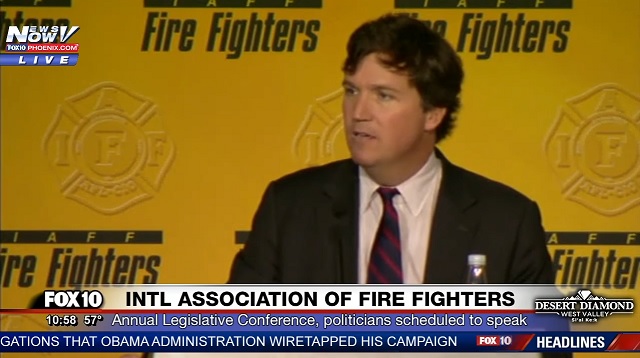 In a shockingly frank talk, Tucker Carlson told the International Association of Fire Fighters on Sunday it's impossible to "overstate" how much the Republicans in DC "hate" Donald Trump.

"You cannot overstate the degree to which Republicans in DC hate Donald Trump," Tucker said. "I mean, they really hate him."

"DC is overwhelmingly ... ninety-four percent for Hillary, something like that," he said. "Every Prius on my street has an Obama sticker on it."

"I mean they come that way from the factory, but they haven't taken them off," he joked.



"So, of course, they hate Trump because they're like, 'wow who is this guy?'"

"The Republicans hate him more," Tucker said. "Idi Amin would get a warmer welcome in our dog park than Donald Trump would were he to venture into Northwest DC, which, being wise, he will not."

"And the reasons are obvious, he's a threat, not just to their vision of the country, but to the sinecures they hold, the sort of high-wage, low work jobs, the inside deal that they have."

"The 'drain the swamp' stuff, they hated that above all."

Tucker went on to speak unmitigated truth for 30 minutes straight and yet a search of Google News shows not even one single article talking about his epic rant.

Follow InformationLiberation on Twitter and Facebook.