Schwarzenegger Quits 'Celebrity Apprentice,' Blames Trump For Show's Failure
Chris Menahan
InformationLiberation
Mar. 03, 2017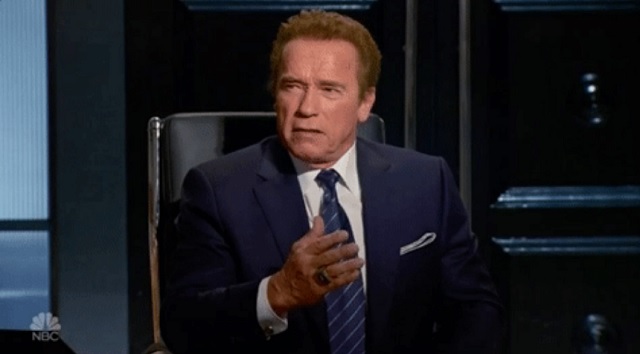 At what point do we say the "Trump Curse" is a verifiable fact?

From The Hill:

Arnold Schwarzenegger says his first season as host of NBC's "Celebrity Apprentice" is also his last.

In remarks Friday, the former California governor cited President Trump, who has repeatedly mocked the ratings of his reality TV replacement, as his reason.

"Even if asked [to do it again] I would decline," Schwarzenegger told Empire magazine . "I learned a lot, I had a great time, it was a really great opportunity. But under the circumstances, I don't want to do it again."

"With Trump being involved in the show people have a bad taste and don't want to participate as a spectator or sponsor or in any other way support the show. It's a very divisive period right now and I think the show got caught up in all that division."
I think no one wanted to watch the Apprentice without Trump. I can't think of anything more boring than watching Arnold Schwarzenegger do a Trump impersonation. They should have tried to get Tucker Carlson.
Schwarzenegger's ratings as host of "Apprentice" have lagged far behind Trump's, finishing the season last in its time slot among the four broadcast networks.

In his remarks Friday, he blamed Trump for the bad numbers.

"It's not about the show," Schwarzenegger said. "Because everyone I ran into came up to me and said 'I love the show…but I turned it off as I read Trump's name I'm outta there.'"

"When people found out that Trump was still involved as executive producer and was still receiving money from the show, then half the people [started] boycotting it," he added.
Indeed, if not for that damn executive producer credit no one ever saw, the show would have been a smashing success.



Follow InformationLiberation on Twitter and Facebook.