'Trump Was Right': Migrants Riot, Loot, Fight With Police And Set Cars On Fire In Sweden
Chris Menahan
InformationLiberation
Feb. 20, 2017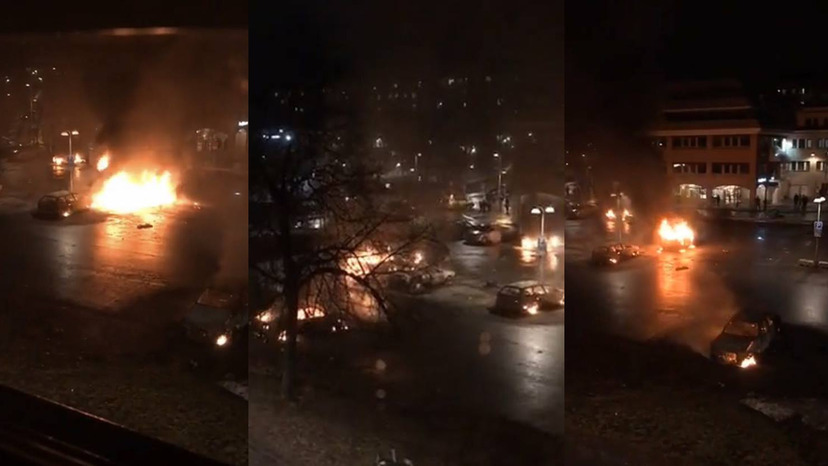 While the media was busy Monday trying to dismiss Trump's claims of troubles in Sweden, riots were breaking out in the immigrant suburb of Rinkeby in Stockholm.

From FriaTider.se (translated with Google):

DOMESTIC. It is now very unsettled in the immigrant suburb of Rinkeby in Stockholm. Police officers have been subjected to stone throwing, warning shots have been fired, shops have been looted, shopkeepers are beaten and several cars on fire. A huge police operation at the site.

The unrest will begin at 20:18 in connection with a police patrol will arrest a wanted person at the metro station in Rinkeby.

- Then it pops up a number of people starts throwing stones at police. The police feel repressed as the fires warning shots. A policeman hit on the arm by a thrown stone, and it is unclear injured mode right now, says Lars Bystrom at Stockholm police for free times.
The unrest in the district continues during the evening and posted as assaulting a police officer and rioting. Quarter to ten notifies police that at least one car on fire.

- We assist the emergency services when they go back and check a car fire, says Bystrom.

Photos from the scene show that a number of cars is in flames. Greater Stockholm fire department does not want to answer questions about the extent of the fires.

- We have no information on it at all, we work for the police out on the spot, said the evening's line officers who do not want to give his name.
Twenty ten violates another violent riot when between 30 and 40 people go on the attack against the police, including stones. No one should have been injured in the riot.

A very large number of police, it is stated according to a source move about the hundreds, are in place to quell the unrest. A breakpoint has been established just outside Rinkeby.

- We must ensure that order is restored! explains Bystrom.

At a quarter to eleven announced that between seven and eight cars stuck in the fire in Rinkeby. The fire brigade puts out fires under police protection. It will also alarm if a school is burning, but the alarm turns out to be false.
- Sometimes the call to us, to attract us to a certain place, says Bystrom.

Forward half past eleven o'clock the situation seems to have calmed down. No cars on fire, it's raining and Rinkeby is besieged by police and firefighters and dozens of blue-light vehicles.

- We have it all under reasonable control, says Bystrom at eleven o'clock.

At the same time, the information that the stores in Rinkeby looted and that a shopkeeper was beaten when he tried to intervene against looters.


- The owner of one of the affected stores had direct alarm to his home. When he goes to the store, he is beaten, says Bystrom.

A total of at least two people have been assaulted. The battered shop owner cared for now in hospital for their injuries.

How unfortunate for the New York Times this is one of their top stories right now:





Life comes at you fast.

Follow InformationLiberation on Twitter and Facebook.