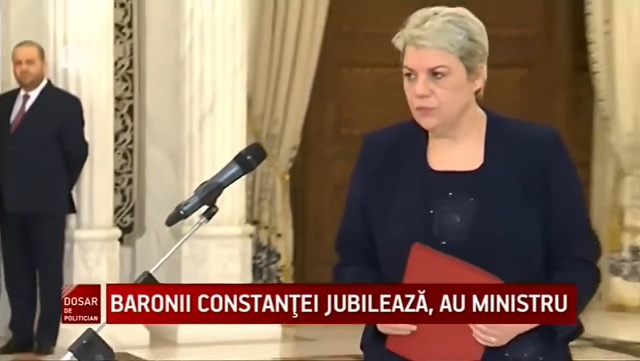 Smart move.

From The Guardian:

Romania's president has rejected a proposal by the leftist party that won elections this month to appoint the country's first female and first Muslim prime minister.

Klaus Iohannis gave no reasons for rejecting the nomination of Sevil Shhaideh, put forward by the Social Democrats (PSD), but there was speculation that it may have been due to her Syrian husband's background.
"I have properly analysed the arguments for and against and I have decided not to accept this proposal," the president said in a televised statement. "I call on the PSD coalition to make another proposal."

The PSD won 45% of the vote on 11 December. Its leader, Liviu Dragnea, withdrew his own bid to become prime minister because he is serving a two-year suspended sentence for fraud in a previous election.

Shhaideh's political experience is limited, having served as development minister for just five months before the previous PSD-led government resigned in late 2015. This and her personal closeness to Dragnea – he was a witness at her wedding – stoked opposition accusations that she would merely be his puppet.
Only .3% of the population of Romania is Muslim. 81% are Orthodox Christians. To select a Muslim woman to be the Prime Minister of an Orthodox Christian country is just bizarre.

Johannis is rather interesting in that he was elected despite being part of a dwindling minority of Germans.

Via Wikipedia:

In 2000, the Democratic Forum of Germans in Romania in Sibiu decided to back him as a candidate for mayor. Despite the fact that Sibiu's German minority had shrunken to a mere 1.6%, Iohannis was elected with 69.18% of the votes and has won three re-elections in a row, getting some of the largest electoral scores in the country: 88.7% of the vote in 2004, and 87.4% in 2008. He is the first ethnic German mayor of a Romanian city since Albert Dörr, who served from 1940 to 1945. The small German minority is popular in Romania, where they are often viewed as hard-working, precise and uncompromising. Many Romanians also remember that the country experienced some of its best moments under German kings over a century ago.
Sounds like this is a very wise man who made a very wise decision.

Follow InformationLiberation on Twitter and Facebook.