'Nazi Republicans Leave Town OR ELSE': GOP HQ Firebombed in North Carolina
Chris Menahan
InformationLiberation
Oct. 17, 2016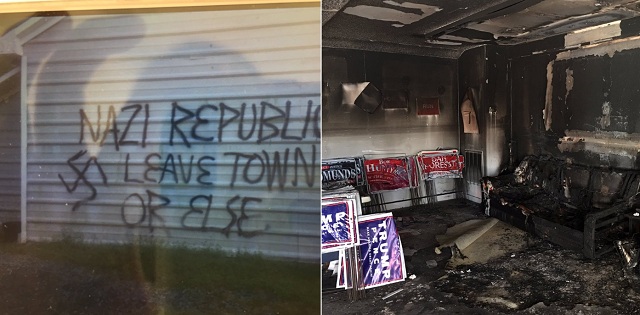 Hillary Clinton supporters just firebombed the North Carolina GOP headquarters in Orange County -- but Donald Trump is the one whose "rhetoric" is dangerous.

From The News & Observer:

The Orange County Republican Party headquarters was firebombed overnight Saturday and graffiti was spray-painted nearby in an attack that the GOP called "political terrorism."

A flaming bottle was thrown through a window of the office and a swastika and "Nazi Republicans leave town or else" were painted in black on the side of an adjacent building, Hillsborough officials said in a news release.

The inside of the office, which contained campaign signs and other election materials, was blackened by soot, and broken glass littered the floor Sunday evening. Office equipment including a printer had melted.
Trump tweeted out in response: "Animals representing Hillary Clinton and Dems in North Carolina just firebombed our office in Orange County because we are winning @NCGOP."



Hillary Clinton, as she had to do after one of her Black Lives Matter supporters went on a shooting spree killing as many "white cops" as he could in Dallas, had to tell her supporters carrying out terrorism to advance her political aims is "unacceptable."

She tweeted: "The attack on the Orange County HQ @NCGOP office is horrific and unacceptable. Very grateful that everyone is safe."



When you call someone Hitler 24/7 in the media, you cannot act shocked when your supporters carry out terrorism "to stop the next Hitler."



FOX News interviewed the executive director of the North Carolina Republican Party Dallas Woodhouse:



Ruptly interviewed other shocked staffers:



The NC GOP shared photos of the damages on Twitter:




CNN, who fanned the flames and helped create the Black Lives Matter movement based entirely on lies, said last week Donald Trump was endangering reporters lives by not denouncing chants of "CNN sucks" at a recent rally.

Their hate-filled rhetoric, meanwhile, not only inspired "white cops" and "white people" to be shot and killed by a plethora of Black Lives Matter supporters -- but also for a Republican office to be firebombed.

If you do not want our nation to fall to these animals, you have to register and vote Trump this November 8th.

Follow InformationLiberation on Twitter and Facebook.