VIDEO: 'Race Riot' Breaks Out At LA High School In 'Most Diverse District in Nation'
Chris Menahan
InformationLiberation
May. 10, 2016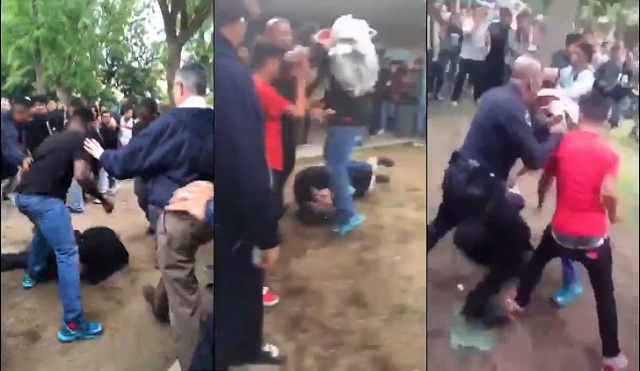 A massive "race riot" between blacks and Hispanics broke out at a Los Angeles high school on Monday.

Cell phone videos show students at Sylmar High School violently punching and kicking one another while completely ignoring attempts by police to break up their fights.

Some 40 students were involved in the melee and 12 officers and a host of school staffers were seen struggling to get the situation under control.

KTLA says several students told them the riot was "race and gang related."

Watch a video report on the incident from KTLA:



Watch a compilation of the raw footage:



Superintendent Michelle King released the following statement:

As the head of the most diverse school district in the nation, let me be very clear: We will not tolerate targeting or violence of any kind on our campuses.

Regarding the recent conflict at Sylmar High School, law enforcement is continuing to investigate. All parents and guardians have been notified about the incident, and appropriate disciplinary action is being taken.

We want to reassure parents that the safety of all students and staff remains our top priority. Extra counselors and support staff have been assigned to the school, along with additional school police.

On a personal note, I want to express my concern about any student who was injured. I wish them a speedy recovery.

The bottom line is that all students are welcome at L.A. Unified schools.
Follow InformationLiberation on Twitter and Facebook.