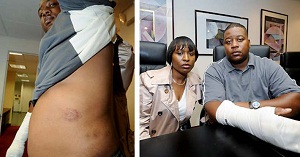 Queens, NY -- After suing his fellow officers for savagely beating and falsely arresting him at his daughter's birthday party, an NYPD cop was awarded $15 million by a federal jury on Wednesday. Although he identified himself as an officer, his colleagues viciously struck him with batons and fired pepper spray into his face before bothering to check the badge and ID in his pocket.

On August 22, 2010, NYPD Officer Larry Jackson was off-duty at his daughter's birthday party in Queens when an unidentified man with a gun appeared in the street breaking a bottle. Although Jackson did not have his gun with him, the off-duty cop confronted the armed man and asked him to leave while Jackson's wife called 911. As Jackson attempted to calm down the armed man, a crowd of roughly 15 to 20 men armed with bats and sticks began to approach them.

Instead of attacking Jackson or the armed man, the crowd immediately dispersed as a marked patrol car arrived in front of Jackson's house. Even though Jackson's wife told dispatchers that her husband was a cop and Jackson immediately identified himself as a fellow officer, the cops ignored him while trying to assess the situation. Hearing an argument from inside Jackson's home, one of the officers suddenly ran into his house without a search warrant.

After striking one of Jackson's friends with a police baton, the officer ordered Jackson to step back. Standing his ground, Jackson again identified himself as a cop and informed the officer that they were in his house. Instead of requesting to see Jackson's police ID or badge, the officer slammed the baton against Jackson's throat and shoved him into the living room.

While repeatedly punching Jackson in the face, the officer accidentally tripped over a cooler leftover from the birthday party. As Jackson attempted to help the officer up, another cop placed Jackson in a chokehold. Unable to speak, Jackson tried to pull his police ID out of his pocket but another officer restrained his hands.

Falling backwards, Jackson and the cop choking him landed on Jackson's 82-year-old mother-in-law, briefly knocking her unconscious. As the officer released his chokehold, Jackson again informed the cops that he was an NYPD officer when another cop struck him in the head with an ASP tactical baton. After stumbling down the front steps, Jackson remained on the ground as a group of bloodthirsty officers began beating him with their batons and pepper-spraying him in the face. While placing him in handcuffs, the cops repeatedly kicked his body and kneed him in the back.

Following the brutal assault, the officer who initially attacked Jackson asked him, "Yeah, you motherfucking dirt bag, if you are really a cop, where is your ID?"

"My ID has been in my front pocket the whole entire time," Jackson responded. "I told you that in the house."

After finally checking his pockets, the crowd of cops immediately dispersed upon the realization that they just brutalized one of their own without justification. Despite the fact that he had his police ID and did not commit a crime, Jackson was detained at the police station for 20 hours before being transported to a local hospital. According to his medical records, Jackson's face and torso were covered in large bruises while his right hand was fractured due to numerous baton strikes.

On June 24, 2011, Jackson filed a federal lawsuit accusing the NYPD of negligence, assault, false arrest, and false imprisonment. Despite the fact that NYPD Officer John Czulada admitted to punching Jackson in the face, none of the cops involved confessed to beating him with their batons or placing him in handcuffs. Even though the police refused to break their code of silence, a jury decided Wednesday to award Jackson with $15 million in damages.

"I feel vindicated," Jackson told The NY Daily News after the verdict. "Just like they say, what doesn't kill you makes you stronger."

Out of the 70 cops who arrived at Jackson's house that night, none of the officers involved in his ruthless beating have been charged with a crime. Instead of punishing the cops who assaulted a fellow officer with batons and pepper spray, the citizens of New York are held responsible for the incompetence and utter brutality of their police force. Perhaps if the police officers were held financially responsible for their actions, they might have bothered to check his badge and ID in the first place.
_
Andrew Emett is a Los Angeles-based reporter exposing political and corporate corruption. His interests include national security, corporate abuse, and holding government officials accountable. Andrew's work has appeared on Raw Story, Alternet, Activist Post, and many other sites. You can follow him on Twitter @AndrewEmett and on Facebook at Andrew Emett.