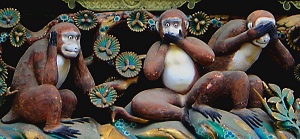 When socialism finally collapsed all around the world in the late '80s/early '90s the academic Marxists did not just throw in the towel and face reality.  Indeed, not one of them has ever apologized for providing intellectual support for some of the worst mass murderers in world history -- Stalin, Mao, Castro, and the rest of the communist/socialist gangsters.  Instead, they reinvented themselves in several different ways, including posing as "environmentalists," and as "cultural Marxists."

Taking their cue from socialist economist Robert Heilbroner in a September 10, 1990 New Yorker article entitled "After Communism," many Marxists began promoting socialist central planning of the economy and of society as a whole (a.k.a. totalitarianism) in the name of "saving the planet" from capitalism.  The old Marxism was sold in the name of "the people"; the new Marxism said "to hell with people, we're for the ants, the lizards, snakes, rocks, trees, etc. -- Mother Earth.  People Schmeople.  Hence the "watermelons" were born:  green on the outside, red on the inside.

The cultural Marxists take a different approach.  They replaced the Marxist theory of class confict between the capitalist "class" and the working class with a new set of classes.  Now the supposed eternal conflict is between an "oppressor" class and an "oppressed" class.  In essence, the oppressor class consists of white heterosexual males.  The oppressed class is everyone else.  Armed with this new totalitarian ideology, egalitarianism is still the secular religion of the academic Marxists, with "diversity" being the mating call of the modern academic administrator.

Now that the cultural Marxists are in charge of so many colleges and universities, they no longer even pretend to defend academic freedom and free speech.  Silencing dissenting opinions (to Marxist totalitarian ideology) is now taught to students as the only moral position.  One of their gurus is the Marxist intellectual Herbert Marcuse, who has been called "the evangelist of cultural Marxism."  He is of course a "celebrated intellectual" who has taught at Harvard, Yale, and Columbia Universities.  Marcuse first became famous among academics in the 1950s with his book, Eros and Civilization, in which he advised young people to "don't work, have sex."  (It apparently never occurred to him that the two things are not necessarily mutually exclusive).  This was in keeping with the hoary Marxian theme that all work is slavery.

Marcuse also taught that science and the scientific method is "the enemy" for it "denies the reality of utopia," by which he meant communism.  In today's world, we see this same idea expressed by the watermelon socialists when they use the quintessentially unscientific language of "settled science" in reference to the global warming hoax.  Science is never "settled."  If it were, it would still be "settled science" that the world is flat.  Settled science watermelons like Al Gore are the new flat earthers.

Marcuse also opposed freedom of speech, which he said was a tool of "the oppressors" since it was responsible for too many criticisms of communism.  "There is no need for logic, debate and free exchange of ideas," he said, for communism supposedly "provides all the answers."  Certainly libertarian or conservative views should not be permitted on campuses since they support "the status quo."

Only the "oppressed classes," as defined by the cultural Marxists, deserve tolerance, preached Marcuse; all others deserve intolerance, and students must be indoctrinated in this thinking, he said.  All of these things are now, and have been for a long time, common features of academe.

In addition to Marcuse, the work of law professor Katherine McKinnon,  the high priestess of cultural Marxism, also inform today's university administrators and their cultural Marxist faculty.  Dissenting views (to their verision of totalitarian Marxism) threaten to create a "hostile  work environment," she says.  And if the work environment becomes so hostile that it interferes with work effort, the source of the "hostility" should be fired.  Thus, if a libertarian or conservative academic should somehow sneak by the university interviewing committee and become employed, and then reveal himself to be a dissenter, he can always be fired -- even if he has tenure -- under the guise of having created a "hostile work environment" with his dissenting views about free speech, the Constitution, free-market exchange, or Heaven forbid, gun ownership.

According to Katherine McKinnon, the new mantra that should be taught to children is:  "Sticks and stones may break my bones, but words are infinitely worse." 

Cultural Marxist academic administrators lie through their teeth when they make speeches or write articles in the university alumni magazine praising academic freedom.  They are lying because they supervise a strict censorship of dissenting views at the same time.  One method that is used to achieve this is to declare that "insensitivity" and "hurt feelings" are caused by dissenting campus speakers.  For example, when Dr. Walter Block was maliciously libeled by the president of Loyola University Maryland, one Brian Linnane, several years ago, the mechanism of libel was textbook cultural Marxism:  the Marxists on campus sent one student to Dr. Block's invited economics lecture with instructions to complain to them later that something he said was "insensitive."  Brian Linnane then sent an email to all students, staff, faculty, and alumni apologizing for the "insensitive" remark while never mentioning what the remark was.  In fact, what Dr. Block said was a very mainstream idea in economics --that wage discrimination based on gender or race penalizes discriminating employers in a free-market economy.  It does so by providing a profit opportunity for the discriminating employer's competitors.  For example, if in my accounting firm I discriminate against a woman who generates say, $100,000/year in revenue for me by paying her $50,000/year while paying equally-productive male employees $90,000/year, a competitor can hire her away for say, $60,000  and make $40,000 in profit.  Eventually, I will be left with all higher-paid male empoyees which will reduce my profitability. The same story goes for employer discrimination based on race.

The cultural Marxist mantra, on the other hand, is that capitalist America is such a hopelessly racist and sexist society, that only the "legacy of slavery" and the white male "war on women" are  permissible on college campuses as the one and only causes of male/female or black/white wage differences.  Anyone who shows up on a college campus who says otherwise is not to be debated with logic and facts, as Marcuse said, but libeled, smeared, and called a racist and a sexist.

Most American colleges and universities take their cues from the Ivy League schools, such as Brown University.  According to a March 21, 2015 article in the New York Times,  the cultural Marxists at Brown set up a "safe room" whenever a renegade student organization ivites a non-Marxist speaker to campus.  These rooms are filled with cookies, coloring books, Play-Do, calming music, pillows, blankets, videos of frolicking puppies, and "trauma experts" according to the Times. This is the business that most American colleges and universities are in these days: the infantilization of college students.  Faculty are instructed to place "trigger warnings" on their course syllabi warning students that a disseting (to cultural Marxism) opinion may be found there.  Safe rooms are set aside just in case.   Students are routinely taught to boycott or disrupt any campus speakers who dissent from cultural Marxist orthodoxy, and to participate in vicious, malicious campaigns of character assassination orchestrated by faculty and administrators.

Cultural Marxism may be bred in academe, but it has spread throughout society.  When Rush Limbaugh attempted to become part owner of an NFL team the cultural Marxists lied, as they routinely do, by spreading the false rumor that he "defended slavery" on his radio program!  When the American Enterprise Institute in Washington, D.C. sponsored a public debate on immigration policy, something Americans have been doing since the Louisiana Purchase, inviting both sides to air their views, the hardcore left-wing hate group, the Southern Poverty Law Center (SPLC), accused AEI of "mainstreaming hate."  The SPLC routinely conflates mainstream organizations like AEI with say, the KKK, by using the same language of "hate" and "hate group" to describe all of them.

When Rand Paul first ran for the U.S. Senate the SPLC issued a "report" on "dangerous characters" running for state and local political office.  Next to a photo of a genuinely crazy-looking neo-Nazi from the mountains of Idaho was, naturally, a photo of Rand Paul.  When a group of military, police, and firefighters pledged their devotion to the U.S. Constitution by creating the group, Oathkeepers, the SPLC also branded them as a "hate group."  And when Ron Paul was running for president the SPLC talked the Department of Homeland Security into issuing a public warning that people with "Ron Paul for President" bumper stickers were potential "terrorist threats."

The heavy-handed, totalitarian censorship that now exists on most American college campuses is so ingrained that comedians Chris Rock and Jerry Seinfeld no longer perform on college campuses.  Too many students have been turned into dour, humorless, left-wing cultural Marxist scolds in the image of their professors and university administrators.   One thoroughly-brainwashed twenty-year-old even wrote a letter to Seinfeld, whose comedy television show was the most successful in all of television history, on the "proper" way to perform a comedy routine.

In his famous book, The Road to Serfdom, F.A. Hayek presciently described the effects of this kind of censorship under totalitarianism in a chapter (11) entitled "The End of Truth."  Such propaganda in a totalitarian society is "destructive of all morals," wrote Hayek, because "it undermines one of the foundations of all morals; the sense of and the respect for the truth" (emphasis added).  Moreover, "in the disciplines dealing directly with human affairs and therefore most immediately affecting political views, such as history, law, or economics, the disinterested search for truth cannot be allowed in a totalitarian system . . . .  These disciplines have . . . in all totalitarian countries become the most fertile factories for the official myths which the rulers use to guide the minds and wills of their subjects."  This of course is what cultural Marxism and political correctness are all about:  spreading Official Myths to promote a totalitarian, socialist society.

"The word truth itself ceases to have its old meaning" in such a society, wrote Hayek, for "It describes no longer something to be found, with the individual conscience as the sole arbiter of whether in any particular instance the evidence warrants a belief; it becomes something to be laid down by authority. . ." and "intolerance is openly extolled."  Herbert Marcuse could not have said it better.