Shock Video: Man Dies in Jail Lobby After Encounter With Sheriff's Deputies
"I can't breathe," witnesses claim they heard man say
by Adan Salazar
Infowars
Sep. 04, 2015



The brother of a man who died after an encounter with Dallas County sheriff's deputies says shocking video footage proves deputies are responsible for his brother's death.

Surveillance footage, released by the sheriff's department last Friday, shows 48-year-old Arlington resident Joseph Sheldon Hutcheson frantically running inside the Dallas County jail lobby on August 1.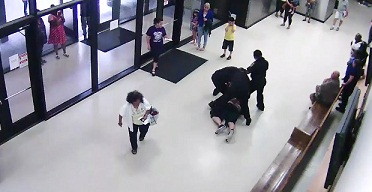 Witnesses say Hutcheson was not violent, but appeared distraught and was seeking help.

"He came in saying, 'Don't be scared of me. I just need some help.' They just tackled him as if he'd threatened their lives," witness April Berryhill told The Dallas Morning News. "He didn't have a weapon. He wasn't swinging at the officers. He just needed help."

Berryhill told The Morning News "she saw a deputy with a knee on Hutcheson's back and another with a knee on his throat. Hutcheson said he couldn't breathe and his face had turned pale blue, so the deputies uncuffed him."

After a few moments, Hutcheson lies motionless as visitors continue to pour into the lobby. Officers are seen attempting to resuscitate him to no avail.

The full video shows an emergency rescue crew arrive and perform multiple resuscitation attempts for nearly 30 minutes before loading him onto a stretcher, as several onlookers ordered to wait outside peer through the lobby window.

Following a month-long investigation, the Dallas County Medical Examiner on Monday declared Hutcheson's death a homicide, blaming the "combined toxic effects of cocaine and methamphetamine, combined by hypertensive cardiovascular disease and physiological stress associated with struggle and restraint," according to CBS DFW.



The man's brother, James Hutcheson, gives an emotional narration of video released by the Dallas County sheriff's department last week.

"It is apparent from the ruling that Mr. Hutcheson died at the hands of another," the attorney representing Hutcheson's family, Scott Palmer, stated at a press conference. "We believe without the assault by the Sheriff's deputies, Mr. Hutcheson would still be alive today."

Hutcheson's family says they were also upset to discover that the organs in his throat "were missing" after hiring a private pathologist to conduct a second autopsy.

Hutcheson's wife Nicole notes in the days following her husband's death the department further attempted to "dehumanize" him, asserting they had found drugs in his truck.

"Two days later, the office corrected that, saying there were no drugs," reports The Dallas Morning News.

The Dallas County Sheriff's Department declined to comment to NBC DFW following release of the medical examiner's determination, and did not indicate whether a grand jury investigation would ensue. A spokesperson with the department said all six officers involved "were reassigned several weeks ago."

Hutcheson's brother, James, is organizing a demonstration at the Dallas County Sheriff's Department building on Friday evening.

"133 N Riverfront Blvd Dallas, Texas 75207 on Friday Sept 4th 2015 at 7pm please show up if you can. This could be your brother."