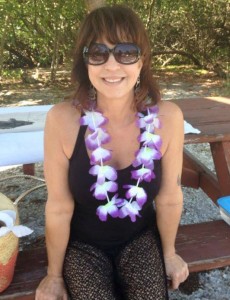 It was a typical evening after work when Sarasota, Fl., resident Louise Goldsberry finished dinner and began to clean up.

The nurse, employed by the Sarasota Doctors Hospital, proceeded towards the kitchen sink to clean the dishes when she gazed out her window. Her gaze met the eyes of a man wearing a hunting vest who was aiming a gun directly at her face.

Goldsberry, understandably frightened, dropped to the floor and began screaming. Although in a panic, she managed to crawl her way into the bedroom to retrieve her weapon, a .38-caliber revolver she had purchased to provide comfort while living alone.

She maintained a concealed weapons permit for the firearm.

Craig Dorris, her boyfriend who worked as a manager for a security alarm company, heard her screams and tried to make sense of his girlfriend's reaction when suddenly they both heard a man screaming to open the front door.

The man, shouting obscenities, claimed to be a police officer and ordered them to open the front door.

Goldsberry wasn't convinced. The man she saw through the window looked more like an "armed thug" than a police officer.

Luckily the boyfriend Dorris, was able to remain calm and request ID from the man, but the yelling continued and the man shouted, "We're the f—- police; open the f—- door!"

Frightened, Dorris moved away from the door half expecting bullets to riddle through it.

Goldsberry, who had never been arrested before, wondered if they could really be police and if they would speak this way. She had no idea as to why the police would be trying to force their way into her apartment with their weapons drawn.

As the couple stayed huddled in the hallway, Goldsberry still clutching her weapon, watched in horror as the unidentified man pushed open the front door, which they swore had been locked.

A man crept around the corner aiming his weapon at them both and shouted, "Drop the f—- gun or I'll f—- shoot you," he ordered.

Goldsberry's screams heightened, but Dorris studied the man who was now standing inside the apartment. He observed him holding a tactical shield for protection and decided he appeared to be well equipped enough to be police.

Dorris realizing that any minute the standoff could result in the death of both of them, began reasoning with the man, surrendering, raising his hands above his head and asking the man to step outside to talk.

After given permission, he moved towards the front door peacefully but was immediately grabbed and placed in handcuffs.

After being arrested outside, Dorris saw numerous men wearing vests with the words federal marshal strewn across them. Dozens of Sarasota Police officers flooded the scene, as well as some others that he couldn't identify, which he found unusual since he often worked with police at his security company.

Dorris described it as a scene from the movie Rambo.

Dorris then yelled inside to his girlfriend that it was OK to drop the gun and come out. Paralyzed with fear, Goldsberry froze and shouted, "I'm an American citizen, you have no right to do this."

The standoff continued for several more minutes before finally releasing her weapon onto the floor.

She was rushed by officers and quickly handcuffed.

The couple remained cuffed outside for the next thirty minutes while police searched their home without a warrant for a man they had never heard of and certainly never seen.

Finally they were released and the police left.

According to police, the man at the door was Matt Wiggins of the U.S. Marshal's fugitive division.

When the Herald Tribune, Sarasota's local newspaper, questioned the marshal he claimed they were searching for child-rape suspect.

Wiggins claimed they had a tip that the suspect, Kyle Riley, was inside the apartment complex, but admitted they had no specific information that indicated he was inside Goldsberry's apartment.

Wiggins said when the people inside the apartment didn't immediately open up, that gave them reason to believe they were harboring the alleged child rapist.

The U.S. marshal even had the audacity to say, "Nobody in the other units reacted that way."

Tom Lyons, a reporter for the Herald Tribune countered, "Maybe none of them had a gun pointed at them through the window."

Of course Wiggins didn't seem to think that fact condoned the horrified woman's behavior. He said he acted with restraint and didn't like having a gun aimed at him.

"I went above and beyond. I have to go home at night," said Wiggins.

Lyons argued, "She had a gun pointed at her, too, and she wasn't wearing body armor and behind a shield."

"She had no reason to expect police or think police would ever aim into her kitchen and cuss at her through her door to get in. It seemed crazy and she was panicked."

Wiggins responded with, "We were clearly the police, she can't say she didn't know."

"She does say so, actually," said Lyons.

In an interview with Lyons the following day, Goldsberry explained, "I couldn't see them. They had a big light in my eyes."

The man she saw aiming a gun at her through the window had nothing visible that said "cop."

"I was thinking, is this some kind of nutjob?" she said.

Turns out it was just a U.S. Federal marshal exercising what he thinks is his right under his authoritative title, and of course was "just doing his job."

Eventually Wiggins admitted, "I feel bad for her. But at the same time, I had to reasonably believe the bad guy was in her house based on what they were doing."

Despite the fact that she was pointing a gun at police, and Goldsberry wasn't shot, Wiggins says, "She sure shouldn't be going to the press."

The suspect, Kyle Riley, was arrested several hours later in another part of Sarasota.