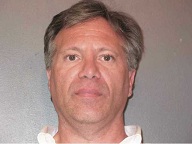 Veteran police officer Detective Sgt. Scott Biumi, 48, of the DeKalb County Police Department was caught on video pulling a gun on Ryan Mash, 18, who was at the front a McDonald's drive-through line, because he felt the young man was responsible for "holding up" the line. Now he's being indicted for aggravated assault.

From Forsyth News:

A Forsyth County grand jury has indicted a former DeKalb County Police Officer on two counts of aggravated assault for reportedly pointing a "deadly weapon" at two Lambert High School students this spring.

Scott Biumi, a 48-year-old Forsyth County resident, was arrested after the incident, which occurred about 10:30 p.m. April 9 in the drive-through line at McDonald's on Old Atlanta Road.

According to a Forsyth County Sheriff's report, Biumi was upset about how long the order from the truck in front of him was taking.

He then pointed a handgun at one teen's head and yelled "you don't know who you are [dealing] with," according to the report.

He then withdrew his gun, got back in his Impala and drove away without getting his order of two hamburgers and a small fries.
Watch the original video here:

_
Chris runs the website InformationLiberation.com, you can read more of his writings here. Follow infolib on twitter here.