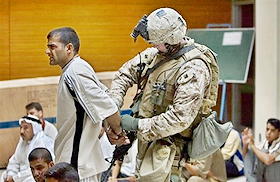 RAMADI, Iraq -- Hundreds of U.S. Marines stormed through dimly lit hallways of the largest hospital in western Iraq on Wednesday, taking control of a facility allegedly used by insurgents - and encountering a regional health infrastructure in serious decay.

Members of al-Qaida in Iraq had been using the Ramadi General Hospital, a seven-story building with some 250 beds, to treat their wounded and fire on U.S. troops in the area, the Marines said.

They said wounded Iraqi police officers who had been taken to the hospital were later found beheaded.

Though there was no resistance during Wednesday's operation, the Marines from the 3rd Battalion, 8th Marine Regiment said they found about a dozen triggering devices for roadside bombs hidden above the tiled ceiling of one office. They knocked down dozens of locked doors and searched medicine chests and storage closets for additional weapons.

Hospitals are considered off-limits in traditional warfare. In western Ramadi, however, insurgents have fired on Marines from the rooftop of a women and children's hospital so often that patients were moved to a wing with fewer exposed windows.

The early-morning raid Wednesday exposed the wartime conditions that have endangered the wounded, sick and elderly in this city of 400,000 people. Doctors said they were struggling to provide basic care.

No ambulances operate in the city because drivers are afraid. Experienced physicians have fled the area, critical supplies are depleted and the number of traumatic war-related injuries has skyrocketed.

Just to reach the hospital, residents must negotiate bomb-saturated roads and gunbattles that often block the way.

"The number of injuries is increasing. The number who can make it (here) is not," said one young Iraqi doctor who refused to give his name for fear of insurgent reprisals.

Religious divisions also have paralyzed the medical staff of 50-60 doctors. Shiite doctors fear coming to Sunni Arab-dominated Ramadi, the staff said, and Sunni doctors are reluctant to travel east to Baghdad.

"We would like them to come here. And we'd like to go there. But there's misunderstanding," the young doctor said.

Staff members also complained that key supplies were scarce. Patients needing CT scans are sent to Baghdad, 70 miles to the east on some of the most dangerous roads in the country. Faulty X-ray equipment produced scans that were barely visible. Shortages of medicine at the hospital force patients to pick up drugs from local pharmacies. And irregular electricity keeps hospital lights flickering on and off.

"Right now, all the supplies here come from Syria and Jordan. We do not get supplies anymore from Baghdad because of the situation there," said one middle-aged medical assistant who also declined to give his name because he feared the insurgents.

During Wednesday's raid, tensions were apparent between some doctors and Marines. The Marines, based in Camp Lejeune, N.C., said one member of their platoon had been shot in the arm near the hospital while handing candy to children at a nearby school. Some angrily accused doctors of harboring and helping insurgents.

Doctors said they knew nothing of insurgent activity or the explosive triggering devices found hidden in the hospital. They insisted they were bound by the Hippocratic oath to serve all patients.

"On my floor of the hospital, I've seen nothing. I have no idea about the other floors," the medical aide said when asked if insurgents had ever visited the hospital.

Marines expressed frustration at the lack of cooperation.

"They don't play by the same rules that we do," said Pfc. Gilberto Rodriguez, 20, of Alexandria, Va., as he stood guard in a hallway. "Insurgents have free rein here. They can do whatever they want. They use whatever tactics are most effective."

Marines and Iraqi soldiers sat outside the rooms of about 30-40 patients. As worried mothers stroked the faces of their sick children, Marines rested in the hallways outside to escape nighttime temperatures that hovered around 100.

Some staff members were visibly angered by the U.S. presence. The young physician's leg shook as U.S. troops interviewed him about critical needs they hoped to fill.

"The young man was angry. I could see it in his eyes," said Navy Capt. Saleem Khan, 58, a soft-spoken surgeon from Sherman, Texas, shortly after meeting with the doctors.

Khan said some contracts were pending to repair hospital equipment, but he said the facility needed tens of millions of dollars - and a return to calm in the city - before any substantial progress could be made. Marines plan to secure the hospital by stationing Iraqi police and soldiers inside. U.S. troops will remain nearby.

"You're looking at the ruins of this place ... What this place needs is some high-price items," said Khan, minutes after explosions echoed from the city. "The dust has to be settled before anything can happen here."

Later, as the doctors returned to visit their patients, the young physician pointed to bottles of medicine strewn about the floor by Marines looking for weapons. He said he wished the Marines had never come to the hospital.

"Why is all this damaged?" the doctor asked a Marine, who apologized. "The next time you visit the hospital, please try not to intimidate the patients."