'Jeremy Corbyn Accused of Anti-Semitism For Pronunciation of Epstein's Name'
Chris Menahan
InformationLiberation
Nov. 21, 2019

This is an actual story from a major British news outlet...

From Metro.co.uk, "Jeremy Corbyn accused of anti-Semitism for pronunciation of Epstein's name":

Jeremy Corbyn has been accused of mis-pronouncing Jeffrey Epstein's name to make him 'sound more Jewish' amid accusations of anti-Semitism against him and the Labour party.

During the ITV leaders debate last night both he and Boris Johnson were asked whether Prince Andrew is 'fit for purpose' after his 'car crash' interview over his relationship with the billionaire sex offender.
The Labour leader -- who has come under fire for his handling of the anti-Semitism allegations against him -- said Epstein's name with the sounding 'Epshtine' rather than 'Epsteen', with many viewers picking up on it online.

Comedian David Baddiel said 'every Jew noticed' while quoting a tweet that said the Labour leader's pronunciation made the paedophile 'sound more Jewish'.

He said: 'I think it was a subconscious thing and meaning is up for discussion.

'But as one who DM'd last night said; it's a thing that feels visceral to Jews but oblique to the outside world.'

He later added that he did not think Mr Corbyn deliberately made the 'Epshtein' pronunciation, adding: 'I think that moment was subconscious: which perhaps says more.'
What do these reactions say?



Catherine Lenson, who was quoted both in the article and by Baddiel, went on a giant tweetstorm which finished with her saying Corybn's pronunciation of Epstein was "a deliberate provocation" aimed at "taunting" Jews.

"It's a deliberate choice," Lenson said. "It's gas lighting. It's sticking a finger up to Jewish voters, as he stands on the stage lying about his handling of antisemitism, to unabashedly show us he couldn't care less about our pain or our votes. It's breathtakingly blatant."




I know Epstein reportedly had the former Prime Minister of Israel/head of Israeli Military Intelligence crashing at his apartment on the regular but I assumed he was a Russian!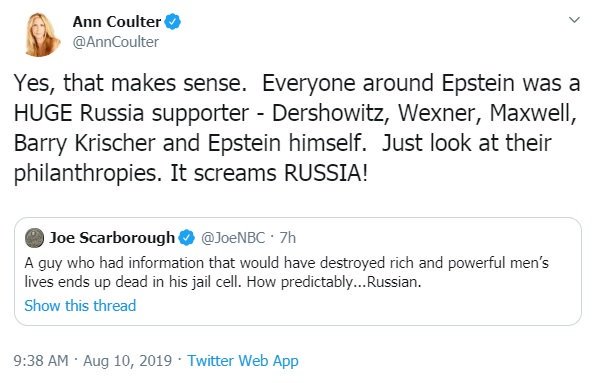 Follow InformationLiberation on Twitter, Facebook, Gab and Minds.