Daily Wire Co-Founder: 'What American Conservatives Want to Conserve is American Liberalism'
Chris Menahan
InformationLiberation
Oct. 30, 2019

The Daily Wire co-founder Jeremy Boreing made a stunning admission that inadvertently revealed the real purpose of the grift operation that is modern "American conservatism" Wednesday on Twitter.

Weighing in to the Charlie Kirk vs. Nick Fuentes controversy, Boreing wrote: "What these retrograde losers don't understand is that what American conservatives want to conserve is American liberalism."


His comment was retweeted by Daily Wire NeverTrumper Matt Walsh and Gary Johnson-voting liberal Dave Rubin of the Rubin Report, both of whom are sold as "conservative" leaders.

What they're fighting to "conserve" is not classical liberalism nor even the liberalism of 2008 Obama. They're fighting to conserve the "American liberalism" of 2017.



Rob Smith's views from when he was a Democrat in 2017 (and 2018) are the same as his views now as a "Republican" in 2019.



People voted for Donald Trump because they wanted to conserve America and protect its people, heritage and traditions -- not because they wanted to conserve American liberalism.

Establishment (neo)conservative shills like Ben Shapiro, Jeremy Boreing, Matt Walsh and so many others were all #NeverTrumpers because they and their wealth donors wanted just the opposite.

Unfortunately, when Trump got in he let himself be run over by controlled opposition Conservatism, Inc. hacks like Paul Ryan and failed to follow through on his promises to end our foreign wars, close the border and mass deport illegal aliens.

While real conservatives like Ann Coulter screamed bloody murder to try and hold Trump to his promises, Conservatism, Inc. grifters decided to heap praise on Trump in order to weasel their way into the White House. They then started celebrating all the bad policies Javanka and the NeverTrumpers that Trump appointed managed to push through.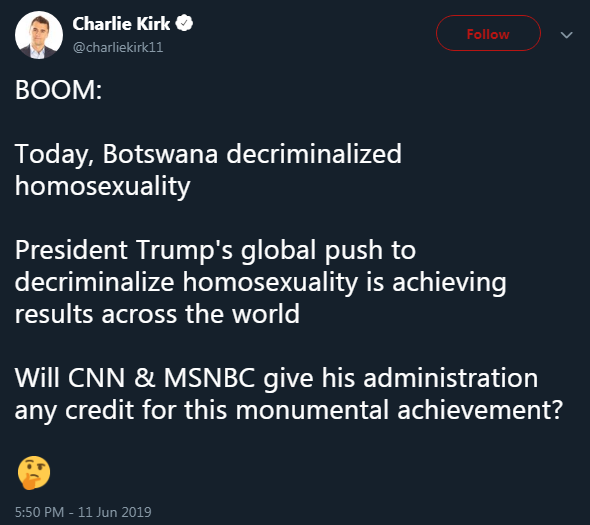 For example, the Trump White House's effort to legalize homosexuality worldwide was originally pushed by Ambassador Richard Grenell, who is openly homosexual, seemingly without Trump's knowledge.


Now, we have the donor-appointed leaders of the conservative movement pushing for legalizing homosexuality worldwide and celebrating Drag Queen Story Hour as "one of the blessings of liberty."




It becoming clearer by the day that Conservatism, Inc. is nothing more than a controlled opposition operation being paid by wealth donors to "grift and lose."


Follow InformationLiberation on Twitter, Facebook, Gab and Minds.