Russians love "honest and open" Donald Trump and hate the warmonger Hillary Clinton whom they say is "ready to storm Russia tomorrow."

From The Daily Caller:

Donald Trump is pretty popular in Russia -- at least, for an American.  

Twenty-eight percent of Russians believe that a Trump presidency would benefit U.S.-Russia relations, while only one percent said they approved of U.S. leadership, according to a new poll conducted by the Interfax News Agency. Only 9 percent believe the same for Hillary Clinton.

"I like Donald Trump the best. He is a good looking man," a young Russian woman told BBC News in April. "His attitude towards Russia is better than Hillary Clinton's."

"Donald Trump is the one I prefer. I think he is more honest and open," another Russian said with a slight smirk.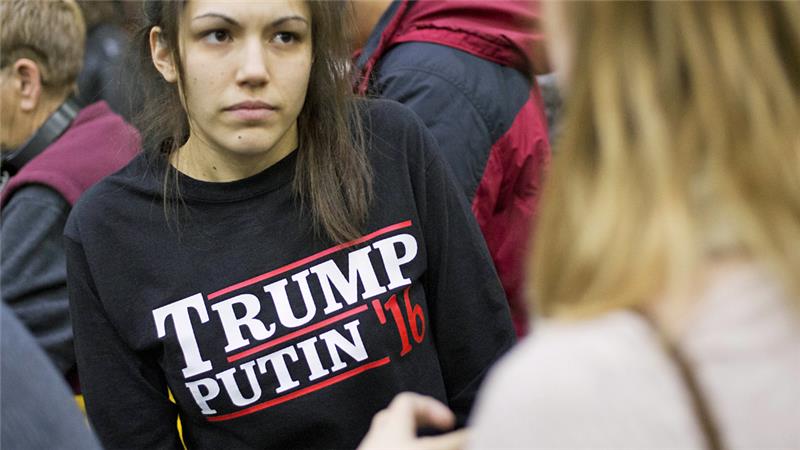 One Russian man, 75-year-old Felix Kolsky, even sent a letter to Trump offering his entire life savings of 100,000 rubles ($1,500), the equivalent of four monthly salaries for the average Russian citizen. Kolksy painstakingly saved up the money by playing the stock market and growing his own potatoes and cabbage.

"Dear Mister Donald Trump," the letter starts off. "Greetings from the most ordinary Russian citizen, Felix Nikolaevich Kolsky."

The devoted Trump fan explains that he has been following the U.S. presidential election and has concluded one thing: "From the group of candidates for the presidency, you are the only one who inspires confidence."
Kolsky continues, "Possessing superior military potential and [the most] developed economy in the world, you are always able to resolve the most pressing problems peacefully….I hope that the American people will elect Donald Trump president of the USA."

Kolsky writes that he believes a Trump presidency would prevent war between America and Russia, while he views Clinton with distrust and hostility. "Look at Hillary, it's clear -- she's ready to storm Russia tomorrow!" he said, according to the Observer.
[...]Russian TV coverage focuses on Hillary's hatred of Russia, painting her as a reckless warmonger and a heartless woman. The Russian news agency REGNUM, reacting to Clinton's famous line regarding Gaddafi's death ("We came, we saw, he died"), announced, "Hillary Clinton means war!" and "American militarism has a female face!"

Another Russian network reported that her election was paid for by foreign oligarchs. According to the tabloid "Komsomolskaya Pravda" -- the most popular form of printed media in Russia -- Hillary Clinton is not only abusive, hypocritical, and impulsive, but she is also bisexual. The Russian tabloid claims that Clinton's use of a private email server is evidence for an "intimate" relationship with her aide, Huma Abedin, and that her marriage to Bill Clinton is just a cover-up.
Whereas Trump has said he wants peace with Russia, Clinton and her neocon backers view Russia as their number one enemy because Putin won't let his country be subverted by globalists.

Russia hasn't actually done anything aggressive to the United States, whereas Clinton's state department is constantly meddling in their affairs and the US led sanctions and oil wars are crippling their economy. The recent fighter jet fly-over in the Baltic sea Clinton and Obama wanted to use to start WW3 was a defensive measure to show the limp-wristed Obama they're tired of his threats.






Trump has said he will end all these stupid wars, whereas Clinton has promised to expand them. Seeing as how the Russians don't want to go to war with America for no reason, they want Trump to win and Clinton to lose.

While Russia's probably not behind the leaking of the DNC emails -- despite all the Clinton propagandists claiming they are with zero evidence -- I must admit it would be pretty funny if they were.


Follow InformationLiberation on Twitter and Facebook.