Gay Pastor Apologizes After His 'Anti-Gay Cake' Fraud Collapses
Chris Menahan
InformationLiberation
May. 17, 2016

Scam-artist hoaxer Pastor Jordan Brown who tried to cash in on the trend of shaking down innocent businesses by claiming a Whole Foods worker wrote "fag" on his "Love Wins" cake has withdrawn his suit and publicly apologized.

"Today I am dismissing my lawsuit against Whole Foods Market," he wrote.

"The company did nothing wrong. I was wrong to pursue this matter and use the media to perpetuate this story. I want to apologize to Whole Foods and its team members for questioning the company's commitment to its values, and especially the bakery associate who I understand was put in a terrible position because of my actions. I apologize to the LGBT community for diverting attention from real issues. I also want to apologize to my partner, my family, my church family, and my attorney."

What a pathetic, weak apology.

How about: "I am sorry I tried to scam you, I am sorry I tried to ruin innocent peoples' lives with false accusations, I am sorry to God for who I am as a person in the inner most depth of my being."




He didn't even admit to perpetrating the con himself!

He just said he was "wrong to pursue [the] matter," ha!

Despite his half-assed apology, Whole Foods dropped their counter suit against him.

"We're very pleased that the truth has come to light," a spokesperson said.

"Given Mr. Brown's apology and public admission that his story was a complete fabrication, we see no reason to move forward with our counter suit."

I guess they figured he didn't have any money so it wasn't even worth their time, nonetheless these hoaxers need to be destroyed just as they've destroyed so many innocent small businesses with their despicable "discrimination" suits.

Watch a video report on the case from USA Today and note the pathetic ending.



"People make mistakes, why pound a person into the ground when they're already down," the customer they chose to air says about Whole Foods dropping their counter suit.

Haven't we all tried to scam some business through a fake hate crime at some point in our lives?!

People make mistakes!

He's "already down?"

Nothing happened to him, he had to withdraw his fraudulent suit which he was guaranteed to lose and publicly apologize, that's not being "down," that's being up a free cake.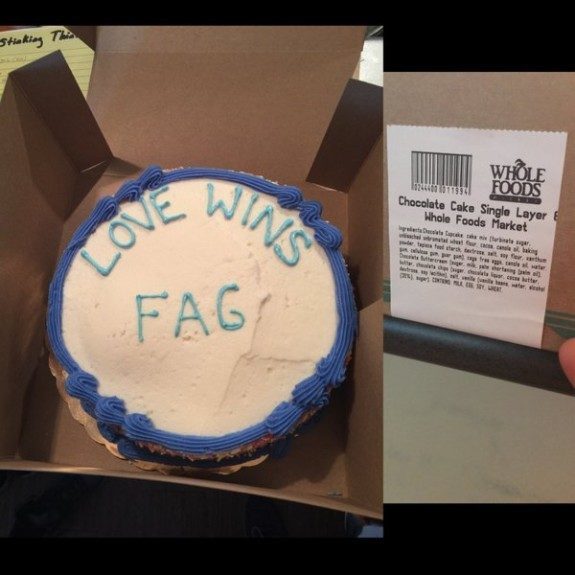 Throw this clown in prison for wasting everyone's time. This exploding phony victimization trend has to be reversed.

Follow InformationLiberation on Twitter and Facebook.