MSNBC: Just Because You Get Vaccinated Does Not Mean You Should Be Traveling Or Stop Wearing A Mask
Chris Menahan
InformationLiberation
Dec. 16, 2020

MSNBC analyst Dr Vin Gupta told Chuck Todd on Tuesday that just because you get vaccinated does not mean you should be traveling or be "liberated" from wearing a mask.




There's no "definitive proof" the vaccine will protect you from the severe forms of corona either, Doc.

Vaccine enhancement, the process whereby those who get vaccinated against viruses can actually have more severe reactions to the virus in the wild than those who are not vaccinated, is still a real risk as these vaccines were rushed out at "warp speed."

That said, I appreciate Dr. Gupta's honesty. As he said, getting the vaccine does not necessarily mean you won't still get the virus, does not mean you won't spread the virus and does not mean you should face any less restrictions.

What's the point in getting this vaccine at all considering the low death risk estimated by the CDC from the virus itself (with some 80 percent of young people experiencing no symptoms) versus the significant risk of grade ≥3 serious side effects?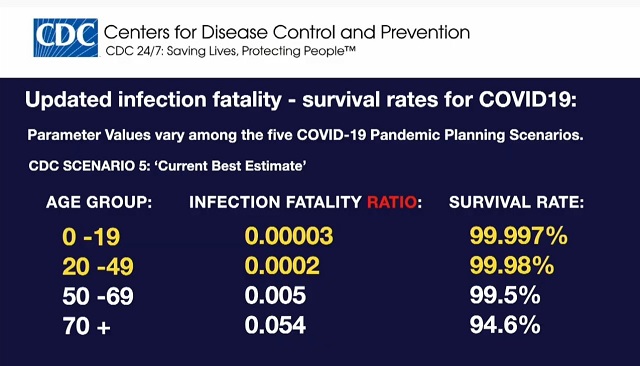 Both Pfizer and Moderna's stocks have been falling after the CDC and FDA released their less than rosy data (fortunately for Pfizer CEO Albert Bourla, he dumped the majority of his stock on November 9th -- the same day his company announced their vaccine was supposedly 90% effective).

The FDA is reportedly telling staff to "watch for Bell's palsy" in recipients of both Moderna and Pfizer's vaccines.


It came out on Tuesday that Moderna's vaccine trial had 4 cases of Bell's palsy among 30,000 vaccine trial participants with 3 having received their vaccine and one receiving a placebo.

The FDA's data revealed Pfizer reported 4 cases out of 43,000 vaccine recipients.


Bourla revealed Tuesday that neither he nor any of Pfizer's executives or board members have taken their own company's vaccine because they don't want to "cut in line."


President Trump, who previously said he was eager to take the vaccine, said on Sunday that he's no longer scheduled to take it but looks forward to doing so "at the appropriate time."

Follow InformationLiberation on Twitter, Facebook, Gab, Minds and Parler.