Tucker Slams CNN's Brownstein For Attacking Him For Highlighting Rapid Demographic Changes In America
Chris Menahan
InformationLiberation
Mar. 28, 2018

CNN's Ron Brownstein attacked Tucker Carlson on Tuesday for daring to highlight the rapid demographic changes happening across America without public discussion nor so much as a vote.

Brownstein described Tucker's piece as a "extraordinary screed against diversity" and insisted third world immigrants on welfare are going to pay for elderly American's pensions sometime in the future.

Tucker fired back against him and interviewed the former mayor of Hazleton, Pennsylvania, a town which went from two percent Hispanic in 2000 to majority Hispanic in 2018 only to see their tax base collapse.



From Fox News Insider:

Tucker Carlson discussed the massive demographic changes over the last decade in select cities in America, including Hazleton, Pennsylvania.

Carlson said Hazleton - located on the cusp of the Pocono Mountains between Allentown and Wilkes-Barre - was less than two percent Hispanic in 2000 but is now majority Hispanic.

He added that more than half of the one-time coal mining center speaks a language other than English at home.

He said a recent report in National Geographic showed many people in Hazleton and other towns like Storm Lake, Iowa, and Hamtramck, Mich. "don't recognize their hometown."

Carlson said people that point this fact out are often misunderstood and accused of racism, or as one television pundit characterized his previous reports: "an extraordinary screed against diversity."

"This is how you bully people into being quiet while you permanently change your country," he said, calling such communities "transformed forever."

Carlson spoke to former Hazleton Mayor Lou Barletta (R), now a U.S. Congressman running for Senate against incumbent Democrat Bob Casey Jr.

Barletta, who served as mayor as the changes began to occur, noted that the "English as a Second Language" funding in the Hazleton school district was $500 in 2000 and $1.5 million only a few years later.

"Our population grew by 50 percent but our tax revenue stayed the same," Barletta said, noting it was a sign of a burgeoning illegal immigration problem.
All these demographic changes go back to one piece of legislation which was passed under false pretenses.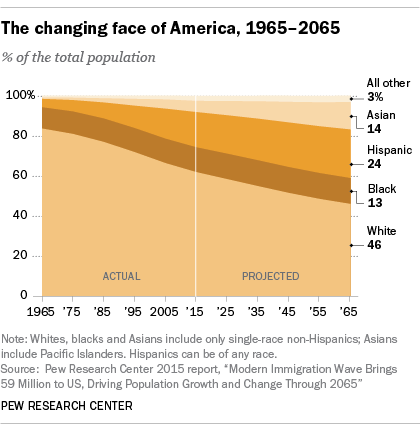 Emanuel Celler and Philip Hart's 1965 immigration act was passed with Ted Kennedy explicitly proclaiming the bill "will not inundate America with immigrants from any one country or area, or the most populated and deprived nations of Africa and Asia":

"First, our cities will not be flooded with a million immigrants annually. Under the proposed bill, the present level of immigration remains substantially the same…

Secondly, the ethnic mix of this country will not be upset… Contrary to the charges in some quarters, [the bill] will not inundate America with immigrants from any one country or area, or the most populated and deprived nations of Africa and Asia…

In the final analysis, the ethnic pattern of immigration under the proposed measure is not expected to change as sharply as the critics seem to think… The bill will not flood our cities with immigrants. It will not upset the ethnic mix of our society. It will not relax the standards of admission. It will not cause American workers to lose their jobs."
That was all a lie and our nation is now the most divided it's ever been since the civil war, yet lying leftists like Brownstein want to act like we're all singing Kumbaya.


Follow InformationLiberation on Twitter, Facebook and Gab.