THE PURGE: Priebus Out, General Kelly In As WH Chief of Staff
Chris Menahan
InformationLiberation
Jul. 28, 2017

Reince Priebus is the latest establishment Republican to be forced out of the Trump administration as part of a much needed purge seeking to tighten up leaks and get Trump's agenda back on track.

Suspected leaker Michael Short, a Priebus staffer, was kicked out earlier this week. Months ago, Priebus staffer Katie Walsh was also purged for suspected leaking.

From The Hill:

President Trump on Friday dismissed Reince Priebus as his chief of staff and replaced him with retired four-star Marine Corps General and Homeland Security Secretary John Kelly, a dramatic shakeup of a White House staff riven by infighting and distrust.

Priebus has borne the brunt of the blame for the lack of progress on Trump's legislative agenda. He has been derided for months by Trump allies and outside critics saw him as a weak chief of staff who was never able to become a gatekeeper for the president.
Trump abruptly announced the decision Friday evening on Twitter as Air Force One landed at Andrews Air Force Base in Maryland as he returned from a trip to New York.

"I am pleased to inform you that I have just named General/Secretary John F Kelly as White House Chief of Staff," he tweeted.

Speaking to reporters minutes later, Trump said Priebus was a "good man" but called his Homeland Security chief a "star."
"Reince is a good man. John Kelly will do a fantastic job. Gen. Kelly has been a star, done an incredible job thus far, respected by everybody. He's a great, great American," the president said.

Priebus served 189 days on the job, the shortest tenure of any White House chief of staff in history. His dismissal marks the end of a tumultuous tenure in which he clashed with other top Trump advisers, most recently Anthony Scaramucci, the newly named communications director.

Priebus had initially tried to block Scaramucci from another White House job. But last week, Trump tapped the brash Wall Street financier to lead the White House press shop over strong objections from Priebus and then-White House press secretary Sean Spicer.
While Scaramucci's interview triggered a lot of Republicans, and I don't like his attacks on Bannon one bit, it did show he's serious about purging leaking saboteurs, which is exactly what he was hired to do.

Kelly is a rather left-wing General, he said he favors amnesty. That said, he hasn't tried to usurp Trump in any way and he's pushing his agenda on the border to great success.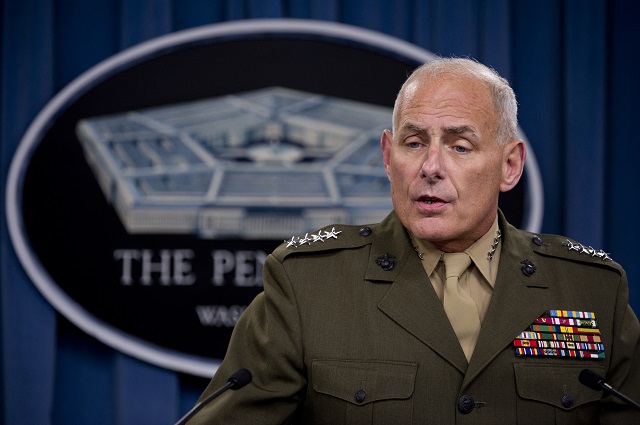 Earlier this year he said the White House leaks are "borderline" treason.



Trump clearly needed to switch things up as the repealing of Obamacare turned out to be a gigantic waste of time, probably by design. The Republican party hates Trump every bit as much as the Democrats and perhaps even more.



Follow InformationLiberation on Twitter and Facebook.