A shocking new Harvard-Harris poll shows 80% of voters are opposed to sanctuary cities and 75% want increased border patrols.

The majority of voters also support Trump's travel ban and are opposed to bringing in so many refugees.

President Trump tweeted the poll out this afternoon:


From The Hill:

An overwhelming majority of Americans believe that cities that arrest illegal immigrants for crimes should be required to turn them over to federal authorities.

The poll shows that President Trump has broad public support in his effort to crack down on sanctuary cities.

A survey from Harvard--Harris Poll provided exclusively to The Hill found that 80 percent of voters say local authorities should have to comply with the law by reporting to federal agents the illegal immigrants they come into contact with.

As it stands, hundreds of cities across the nation -- many with Democratic mayors or city councils -- are refusing to do so. Trump has signed an executive order directing Homeland Security Secretary John Kelly to find ways to starve these sanctuary cities of federal funding. A Reuters analysis found the top 10 sanctuary cities in the U.S. receive $2.27 billion in federal funding for programs ranging from public health services to early childhood education.
Kelly is expected to hire thousands of new immigration enforcement agents with broad authority to detain and deport those in the country illegally, potentially setting up a showdown between the federal government and sanctuary cities.

The Harvard--Harris Poll survey found strong support for an overhaul of the nation's immigration laws, with 77 percent saying they support comprehensive immigration reform against only 23 percent who oppose.

"While there is broad support for comprehensive immigration reform, there is overwhelming opposition to sanctuary cities," said Harvard--Harris co-director Mark Penn. "The public wants honest immigrants treated fairly and those who commit crimes deported and that's very clear from the data."

The finding is one of several in the survey that show Trump has support for some of the controversial immigration proposals that were a hallmark of his campaign.

A majority -- 52 percent -- say they support Trump's two executive orders allowing for the construction of a southern border wall, increasing the number of immigration officers by 10,000 and finding a way to revoke federal funds for sanctuary cities.

The crackdown on sanctuary cities is the most popular feature of those actions, followed closely by the directive to increase the border patrol, which is backed by 75 percent of voters.
Seeing as how the polls underrepresented Trump's support before the election, we can safely say the real numbers are even higher.

The results show clearly Americans want these aliens deported and do not believe "they're enriching our culture" and "helping our economy."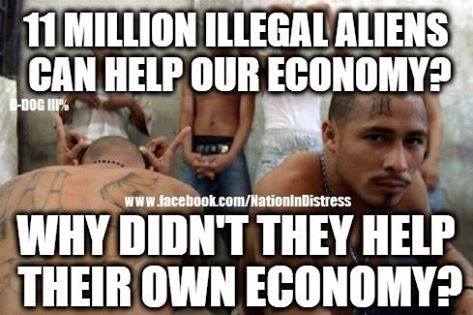 Even though the public overwhemingly supports kicking these aliens out, corrupt politicians on both sides of the aisle supported bringing them all in and letting them stay even though it's cost us billions of dollars and gotten thousands of innocent people like Kate Steinle killed.

All the numbers show Trump's agenda is wildly popular. While the media is in overdrive trying to demonize him by lying about him with an endless stream of fake news, if the sold out, cucked Republicans will just get in line and force his agenda through they'll be looking at decades of Republican rule.

Follow InformationLiberation on Twitter and Facebook.