Survey: 'Generation Z' Rejecting Parents' Liberalism And Shifting Hard Right
Chris Menahan
InformationLiberation
Sep. 29, 2016

'Generation Z' are rejecting the media's brainwashing and their parents' liberal bulls**t and shifting hard to the right.

From The Daily Mail:

Teenagers born after 2000 - the so-called 'Generation Z' - are the most socially conservative generation since the Second World War, a new study has found.

...When asked to comment on same-sex marriage, transgender rights and cannabis legislation, 59 per cent of Generation X teenagers said they had conservative views. 

Around 85 per cent of Millennials and those in Generation X had a 'quite' or 'very liberal' stance overall. 

When asked for their specific view on each topic only the Silent Generation [those born in or before 1945] was more conservative that Generation Z. 
One in seven - 14% - of the 14 and 15-year-olds took a 'quite conservative' approach, while only two per cent of Millennials and one per cent of Generation X. 

The Silent Generation had a 'quite conservative' rating of 34 per cent. 

Young people, who have grown up during the 2008 financial crash, were also more prudent and careful with their finances. A quarter of respondents wanted to save money instead of spending cash they didn't have.

Baby Boomers took a difference approach and said that 'money is made to be spent'.
Shame on these people.
Again only the prewar generation came ahead of today's teenagers for holding an even more shrewd financial head.

As well as being more socially conservative, more than 10 per cent of teenagers were more likely to avoid tattoos.

This compared to only two per cent of Millennials and six per cent of Generation X.
It make sense they'd shift to the right considering the insane level of brainwashing now considered "normal" on TV and in the media.





According to our hostile media, this is what a "normal" family looks like in 2016.


While it used to be edgy to be a leftist degenerate, now that leftist degeneracy has taken over society it's edgy to be a far-right traditionalist.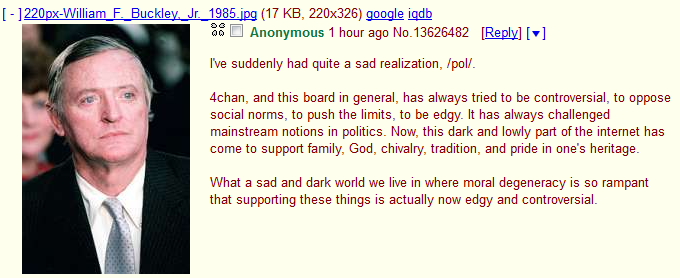 It also makes sense they'd be shifting to the right considering their parents gave all their jobs, education opportunities and welfare away to foreigners to feel good about themselves.

Follow InformationLiberation on Twitter and Facebook.