The new British Prime Minister, Theresa May, quietly banned from the UK "a self-described 'identitarian' who leads a white nationalist think tank in Northern Virginia," the Washington Post reports.

Via WashPo:

The political tumult in post-Brexit U.K. politics has given the country a new prime minister: Theresa May, set to take office Wednesday. That was a defeat for the wing of the ruling Conservative Party that actively campaigned for the country to leave the European Union, but it's not seen as a defeat for the right. As the home secretary, roughly Westminster's equivalent of a U.S. secretary of homeland security, May was best known as a critic of unchecked immigration.

"When immigration is too high, when the pace of change is too fast, it's impossible to build a cohesive society," May said at last year's Conservative Party conference. (British political parties hold yearly conventions.) "It's difficult for schools and hospitals and core infrastructure like housing and transport to cope."

At the same time, May's ministry was cracking down on political extremism in a fairly quiet way. Richard Spencer, a self-described "identitarian" who leads a white nationalist think tank in Northern Virginia, received an envelope last month marked "On Her Britannic Majesty's Service."

"I thought, perhaps, that the queen was inviting me to tea," he joked.
Instead, he learned that the Home Office had reviewed a speeches he'd given about the need for "an ethno-state" where "whites could reach the stars," a goal hampered by mass immigration.

"Before the onset of equality sclerosis, Europeans had a unique ability to risk everything for ends that are super-human," he said in 2013. "We need an ethno-state so that we could rival the ancients."

That, said May's office, suggested that Spencer could "foster hatred which might lead to inter-community violence in the U.K." if he kept talking.

"The Home Secretary considers that should you be allowed to enter the UK you would continue to espouse such views," the letter read. "In doing so, you would be committing listed behaviours and would therefore be behaving in a way that is not conducive to the public good. You are therefore instructed not to travel to the UK as you will be refused admission on arrival."
I guess the mass immigration of Muslims which led to the Rotherham scandal whereby Pakistani immigrants raped and molested thousands of British girls doesn't count as "inter-community violence," but instead "cultural enrichment."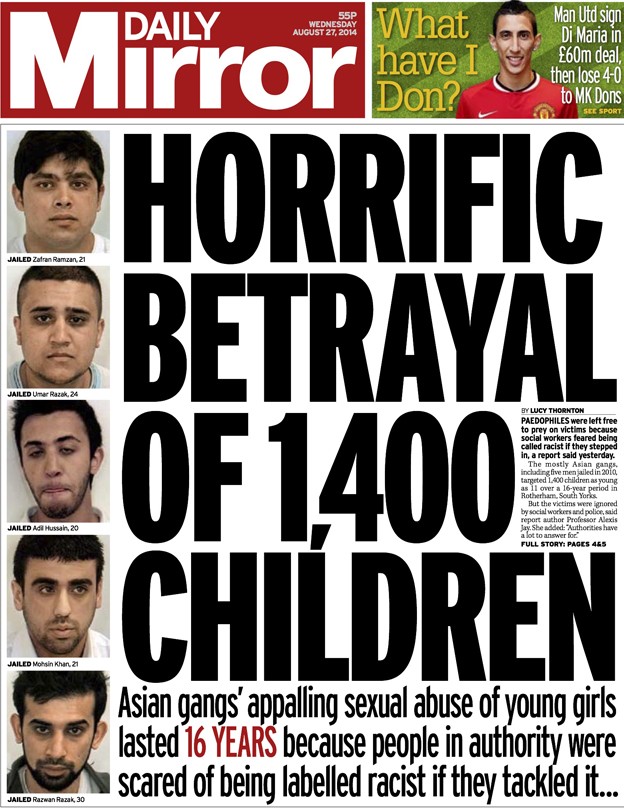 Earlier this year, May "hailed" the "many benefits" of Sharia law.

"Many British people of different faiths follow religious codes and practices, and benefit a great deal from the guidance they offer," she said.

While May bans white people from the UK for advocating in favor of an ethno-state, she welcomes Muslims advocating for a caliphate.


Follow InformationLiberation on Twitter and Facebook.