WATCH: Israeli Children Sing 'We Will Annihilate Everyone' in Gaza
Chris Menahan
InformationLiberation
Nov. 20, 2023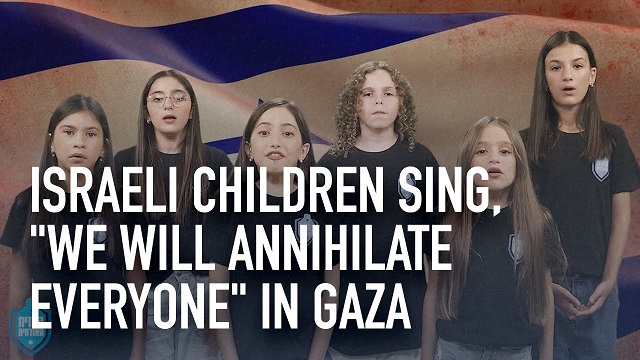 Israeli public broadcaster Kan brought together a group of Jewish children to sing a song in celebration of genocide and ethnic cleansing in Gaza.

The comically evil song was deleted shortly after it was posted due to widespread backlash on social media.


From Electronic Intifada:

Israel's national broadcaster Kan uploaded this song to X (formerly Twitter) in which Israeli children sing in celebration and support for the Israeli army's mass extermination campaign of Palestinians in Gaza.

The sweet faces of children make an incongruous accompaniment to the genocidal lyrics of the so-called Friendship Song 2023.

"Autumn night falls over the beach of Gaza, planes are bombing, destruction, destruction," the children sing in angelic voices. "Within a year we will annihilate everyone, and then we will return to plow our fields."
The video was deleted after backlash but was archived on X and on Kan's website and translated by David Sheen for Electronic Intifada.

"The song and video were originally created by Ofer Rosenbaum a so-called 'crisis-communication expert' who heads a public relations firm called Rosenbaum Communication," Electronic Intifada reported.

This is the type of lunacy you produce when the guiding principle of your war is an ancient biblical commandment to "destroy Amalek."




Follow InformationLiberation on Twitter, Facebook, Gab, Minds and Telegram.