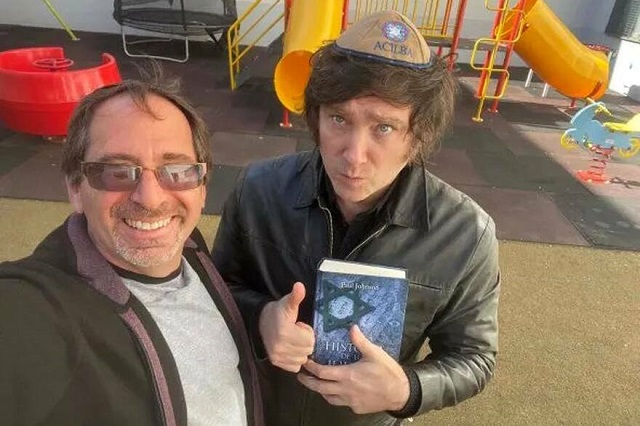 "Libertarian" outsider Javier Milei, an eccentric self-described Anarcho-Capitalist who said he wants to convert to Judaism from Catholicism and has a rabbi as his "spiritual guide" (pictured), soundly won Argentina's presidential election on Sunday.



Despite casting himself as a libertarian, he supports Ukraine and Israel and wants Argentina to give up its own currency and dollarize.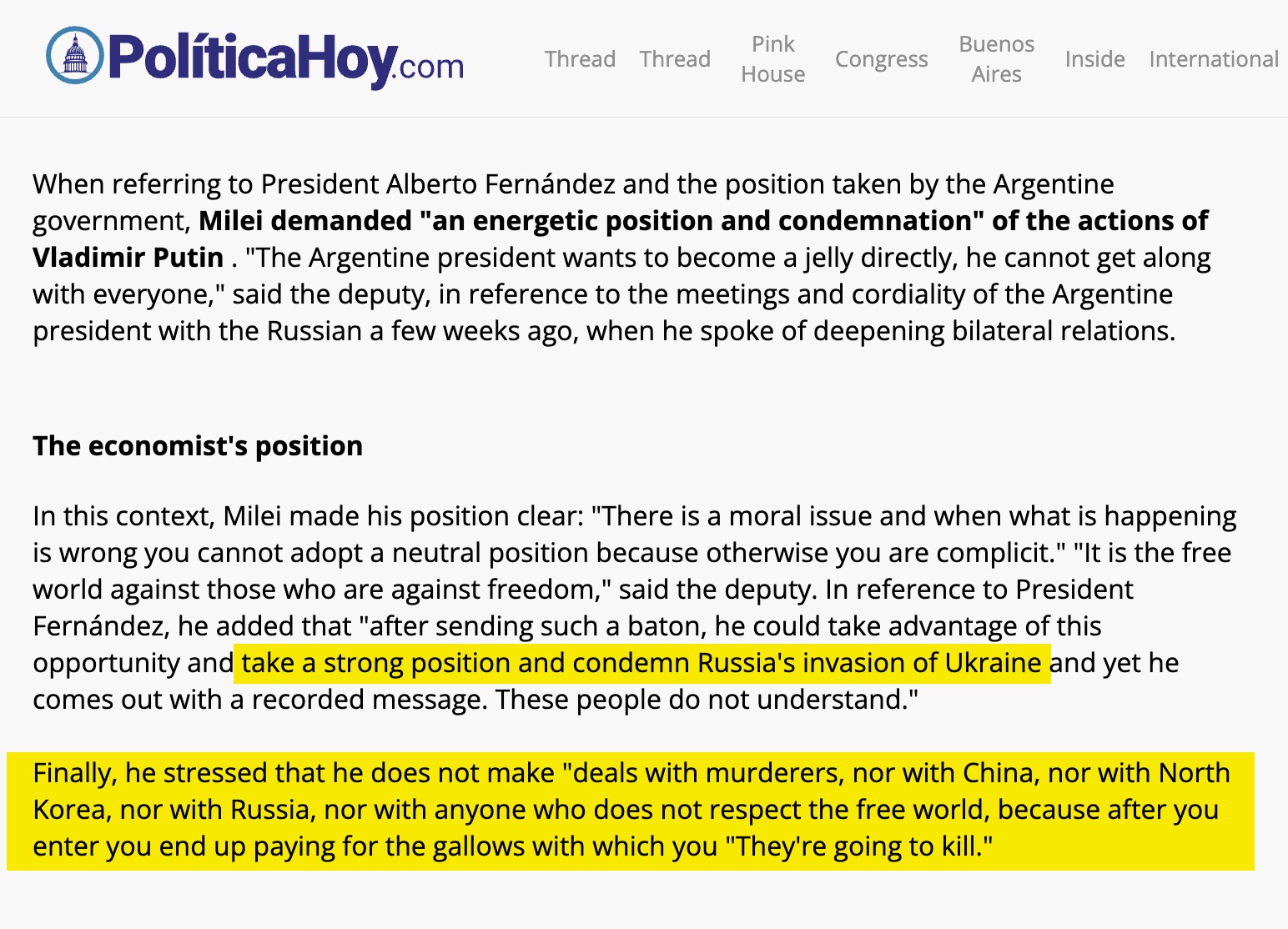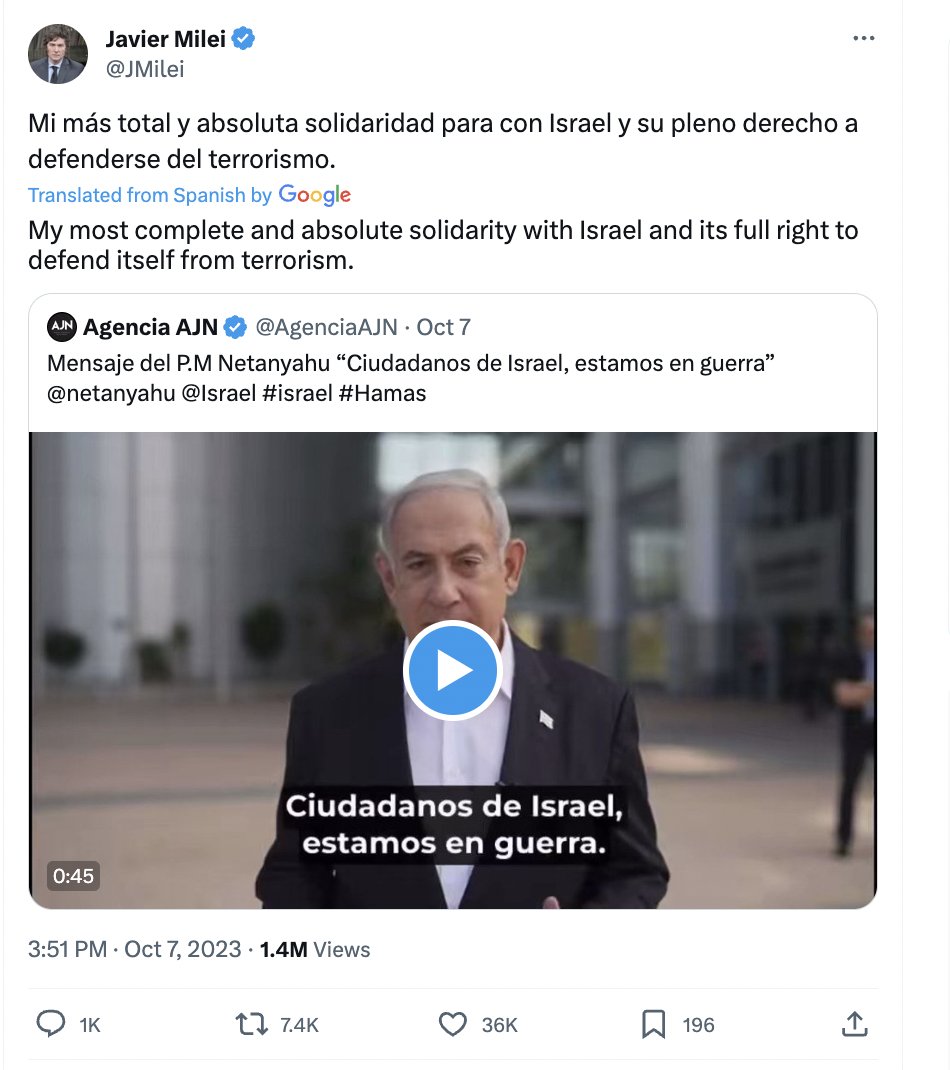 Milei's win was reportedly driven by extreme levels of inflation devastating Argentina's economy, prompting voters to embrace change.

From Al Jazeera, "Argentina elects outsider Javier Milei on platform of radical reform":

Argentina has elected libertarian outsider Javier Milei as its next president, taking a chance on the eccentric economist's programme of radical economic reform after decades of stagnation.

Milei's win heralds a dramatic shake-up of the Latin American country's economy and institutions amid public anger over high inflation and record poverty rates under the centre-left Peronist coalition.

In an address to Argentinians on Sunday night, Milei said his victory marked the beginning of the "reconstruction of Argentina."

"Today begins the end of Argentina's decline," he said. "Today ends the impoverishing model of the omnipresent state, which only benefits some while the majority suffers."

In the capital Buenos Aires, hundreds of Milei supporters honked horns, set off fireworks, and chanted his popular refrain against the political elite, "Out with all of them!", as rock music played.
From AP, "Fiery right-wing populist Javier Milei wins Argentina's presidency and promises 'drastic' changes":

"There were lot of voters that weren't convinced to vote Milei, who would vote null or blank. But come the day of the vote, they voted for Milei because they're all pissed off," Andrei Roman, CEO of Brazil-based pollster Atlas Intel, said by phone. "Everyone talked about the fear of Milei winning. I think this was a fear of Massa winning and economy continuing the way it is, inflation and all that."

Milei accused Massa and his allies of running a "campaign of fear" and he walked back some of his most controversial proposals, such as loosening gun control. In his final campaign ad, Milei looks at the camera and assures voters he has no plans to privatize education or health care.

Milei's screeds resonated widely with Argentines angered by their struggle to make ends meet, particularly young men.

"Incredibly happy, ecstatic, it's a global historical phenomenon!" Luca Rodríguez, a 20-year-old law student, said outside Milei's headquarters after spraying a bottle of champagne into the air onto those around him, who squealed with glee. "I want to break free from this ridiculous elite that takes away all our rights, all the tax money that pressures us and doesn't let us live in peace."

Economic Minister Sergio Massa earlier conceded defeat as provisional results in the run-off election showed Milei with 56 percent of the vote to his 44 percent, with nearly 90 percent of votes counted.

Two Milei supporters in the raucous crowd were 32-year-old identical twins, both dressed in matching grey tank tops with Argentine flags draped over their shoulders.

"We want a change, we want everything to improve," Amilcar Rollo said beside his brother, Gabriel. "It's the hope for something new from someone who hasn't been there and has different ideas. Otherwise, it's just the same as always."
From The Times of Israel, "Ahead of Sunday's election, one of Argentina's two presidential candidates talks Torah":

ToI: Let's talk about the world. You believe Israel and the United States could be Argentina's top allies. What does Israel mean to you?

Milei: What I admire the most about Israel is its culture, its people. It gives me a lot of admiration to see how they manage to combine the spiritual world with the real world. That, to me, is formidable and admirable.

How long have you felt that way?

I've always felt a quite pronounced admiration, initially unconsciously and then more consciously. I remember that every Easter, the only movie I never missed was "The Ten Commandments." Obviously, I already had felt a very strong attraction to the personality of Moses. But later on, as time passed, I had a student at the university who was also studying to become a rabbi, and I was surprised by the kind of questions he asked me. So, I asked him, "Where do you get this way of asking questions? Because this is great." And he said to me, "No, it's super easy. Because every morning I study to become a rabbi," and I thought, "This is awesome." Later on, I had the pleasure of meeting Axel Wahnish. He is my main rabbi today. He is a truly remarkable person, and obviously, along with my sister, they are my spiritual guides.

What do you think about the war in Israel?

I have taken a very clear stance. I did it when I gave my last speech in Congress. In fact, not only did I condemn the terrorist acts of the Hamas group [which killed 1,200 people in southern Israel in a brutal rampage on October 7], but I also expressed my solidarity with Israel. Above all, I emphatically expressed my support for Israel's legitimate right to defense. And I didn't stop there; I sent a proposal for that purpose in Congress, managed to get the agreement of the bloc presidents, and we had a clear consensus. The next day we sent a proposal urging the government to investigate Hamas to declare it a terrorist group.

To include Hamas in the Argentine lists of terrorist groups…

Exactly. Indeed, it was a successful statement because a day later, the G7 issued a statement similar to the one we had made. We are proud that we made a good assessment on the international stage.

If you were to become president, what would you do to try to recover Israeli-Argentinians who are held captive by Hamas in Gaza?

One has to demand the recovery of all Israeli hostages, not just Argentinians. In the statement we crafted, we also used a very specific term called a "well-being truce," which doesn't even require a ceasefire, but it opens a channel through which people can be rescued. It creates an opportunity for individuals to be released. We are working on that.

Would you really move the Israeli embassy from Tel Aviv to Jerusalem?

Yes, of course. I don't care if I'll be criticized by world leaders. I truly believe that's the right thing to do.

Would you convert to Judaism during or after your political career? It's not easy.

It's very difficult because I wouldn't be able to fulfill all the precepts due to the demands I'd have as president. You know if you're a convert, you have to comply with all of the Jewish religious precepts. I was recently in New York and I even had the privilege of visiting the office of the [late] Lubavitcher Rebbe [Menachem Mendel Schneerson]… The thing is, I'd possibly plan to convert after my political career is finished.

[...] Are you grateful for this opportunity?

Yes. Very grateful, to hashem [God].
Milei said during his campaign that his first trip would be to Israel and he wants to "travel to Jerusalem to delve deeper into his studies of the Torah, Talmud, and other Jewish scriptures."

We will find out quick if this was all claptrap to get elected or if Milei is just another sellout like Georgia Meloni.

Follow InformationLiberation on Twitter, Facebook, Gab, Minds and Telegram.