Leaked Israeli Govt Plan: Expel All Palestinians From Gaza And Send Them to Europe and Canada
Chris Menahan
InformationLiberation
Oct. 30, 2023


A leaked Israeli Intelligence Ministry document reveals the goal of their war with Gaza is to ethnically cleanse the Palestinian population and send the refugees to Europe and Canada.

From 927 Magazine, "Expel all Palestinians from Gaza, recommends Israeli gov't ministry":

The 10-page document, dated Oct. 13, 2023, bears the logo of the Intelligence Ministry -- a small governmental body that produces policy research and shares its proposals with intelligence agencies, the army, and other ministries. It assesses three options regarding the future of the Palestinians in the Gaza Strip in the framework of the current war, and recommends a full population transfer as its preferred course of action. It also calls on Israel to enlist the international community in support of this endeavor. The document, whose authenticity was confirmed by the ministry, has been translated into English in full here on +972.

[...] The document recommends that Israel act to "evacuate the civilian population to Sinai" during the war; establish tent cities and later more permanent cities in the northern Sinai that will absorb the expelled population; and then create "a sterile zone of several kilometers ... within Egypt, and [prevent] the return of the population to activities/residences near the border with Israel." At the same time, governments around the world, led by the United States, must be mobilized to implement the move.

A source in the Intelligence Ministry confirmed to Local Call/+972 that the document was authentic, that it was distributed to the defense establishment by the ministry's policy division, and "was not supposed to reach the media."

[...] The transfer plan is divided into several stages. [...]

The document also says that the United States should be enlisted in the process to exert pressure on Egypt to absorb the Palestinian residents of Gaza, and that other European countries -- particularly Greece and Spain -- as well as Canada should help absorb and settle the Palestinian refugees. The Ministry of Intelligence said the document was not yet formally distributed to U.S. officials, but only to the Israeli government and security agencies.
Right-wing pro-Israel "influencers" all over social media have been working to sell Israel's war to their followers by inflaming anti-Muslim sentiments and suggesting supporting Israel's war will allow our governments to repatriate our large Muslim populations -- meanwhile, Israel has drawn up plans in secret to foist the refugees they're creating onto our countries!



This is diabolical but not entirely surprising. Breitbart editor-at-large Joel Pollak called for this exactly seemingly out of pure instinct the same day this plan was quietly released.


This is not the first time Israel has drawn up such plans but this time they're planning to relocate 2.2 million Palestinians rather than some 16,250 Africans!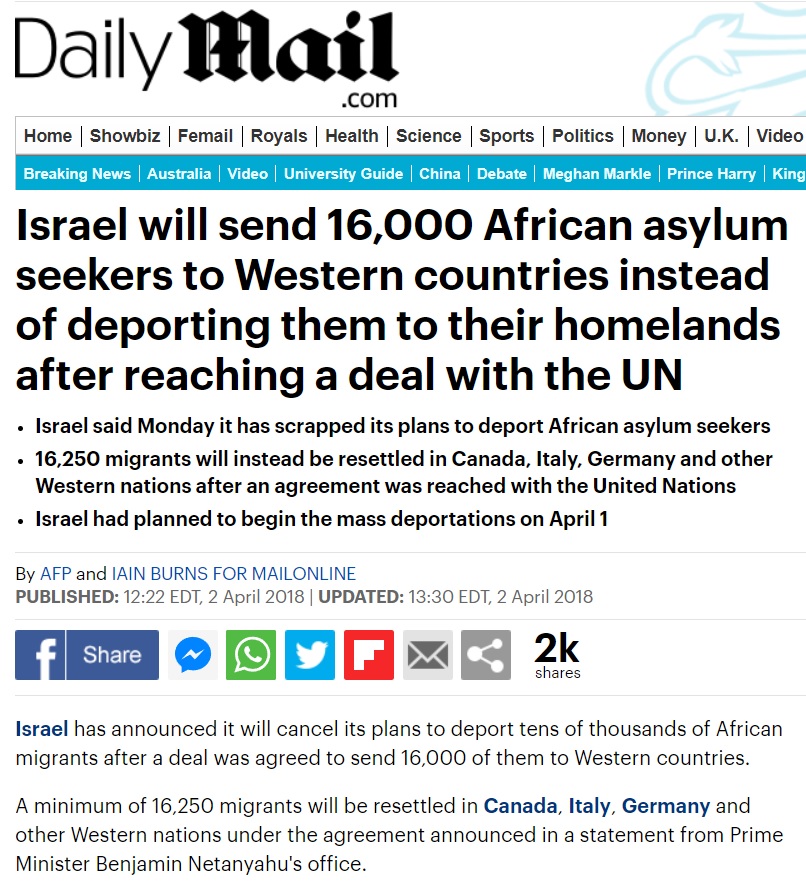 Follow InformationLiberation on Twitter, Facebook, Gab, Minds and Telegram.