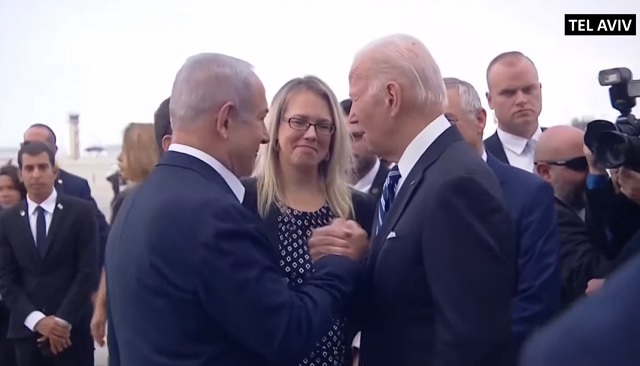 The Biden regime is gearing up to give an additional $100 billion from struggling US taxpayers to Israel and Ukraine.

From ABC News, "Biden drafts $100 billion foreign aid package, including money for Israel and Ukraine":

The Biden administration is drafting a $100 billion foreign aid package that includes assistance for Israel as well as other top security priorities, according to two people familiar with the details.

Details on the spending request were still being finalized ahead of an official request sent by the White House to Congress this week.

One person told ABC News that the ďbulkĒ of the assistance will likely go toward Ukraine, while others also said that it included $10 billion for Israel. The officials spoke on condition of anonymity in order to discuss details that hadn't been announced yet by the White House.

[...] Budget experts say Israelís assistance needs arenít likely to be urgent due to a 2016 agreement that provides Israel $3.8 billion a year over 10 years. More pressing, they say, is Ukraine, which has run out of long-term funding as it seeks to fend off Russia.

Some House Republicans have questioned the need for more U.S. aid to Ukraine. By tying Ukraine and Israeli aid in a single legislative package, the White House would make it harder for GOP hardliners -- who are staunch allies of Israel -- to reject it.

Pro-Israeli groups have also called on Biden to include at least $500 million in grant funding for Jewish communities in the U.S. to protect synagogues and other community sites due to threats. It was not immediately clear if that request was part of Bidenís aid package as of Tuesday.
Never let a good crisis go to waste!

From the ADL, "Coalition of National Jewish Orgs Urges White House to Include Funds for Security Grants in Israel Aid Package":

ADL (the Anti-Defamation League) and a coalition of national Jewish organizations today sent a letter urging President Biden to include $500 million in Nonprofit Security Grant Program funding to protect synagogues and other Jewish communal institutions as part of an emergency aid package for Israel.

"We have seen time and time again that tensions in the Middle East lead to an increase in antisemitic incidents targeting Jewish institutions and Jewish individuals," the letter stated. "Many of these incidents appear to have been perpetrated by individuals scapegoating American Jews for the actions of the Israeli government."
ADL CEO Jonathan Greenblatt said just days ago to drum up support for Israel that "every Jewish person is a Zionist" but now he's back to saying they're all individuals again.

After Israel reportedly requested $10 billion dollars in emergency security aid, President Biden signaled that he intends to ask Congress for funding for Israeli security needs. The coalition letter urges President Biden to also include domestic Nonprofit Security Grant Program funding within the supplemental request. Earlier this year, the Biden administration released the U.S. National Strategy to Combat Antisemitism, calling on Congress to fully fund a budget request of $360 million to increase security in religious places of worship and organizations.

The letter was co-signed by the Union of Orthodox Jewish Congregations of America, Jewish Federations of North America, American Jewish Committee (AJC), Conference of Presidents of Major American Jewish Organizations, Hadassah, Hillel International, The Women's Zionist Organization of America, JCC Association of North America, National Council of Jewish Women, Rabbinical Assembly, Secure Community Network, Union for Reform Judaism (URJ), and United Synagogue for Conservative Judaism.
The White House's National Strategy to Counter Antisemitism, which the ADL took credit for predominantly writing, called on "all online platforms" to ban "extremist websites," ban "hate speech" and institute "zero tolerance" policies to protect Jews from "antisemitism."




As a reminder, the ADL also secured up to $10 million in Paycheck Protection Program (PPP) bailout funds in 2020 despite having some $117 million in net assets.

The US government is funding the ADL's lobbying efforts to silence and deplatform critics of Israel and run cover for Israel's ethnic cleansing of Gaza.

Follow InformationLiberation on Twitter, Facebook, Gab, Minds and Telegram.