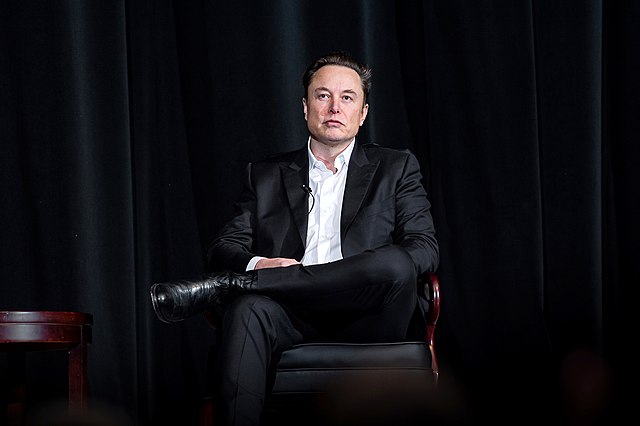 Over 100 Jewish leaders on Tuesday signed on to an open letter labeling X owner Elon Musk an "antisemite" and a "danger" to Jews for allowing too much free speech on his social media platform.

The Jewish leaders, who have organized under the "X Out Hate" campaign, call on "all companies and governmental organizations engaged in business with Musk to end their relationships with his various companies" for not censoring enough to their liking and promoting antisemitic myths about "Jewish power."

Additionally, they call on both Apple and Google to ban Twitter/X from their app stores.

Elad Nehorai, the organizer of the letter, told The Hill the purpose of the letter is "to push for advertisers and app stores to pull their support."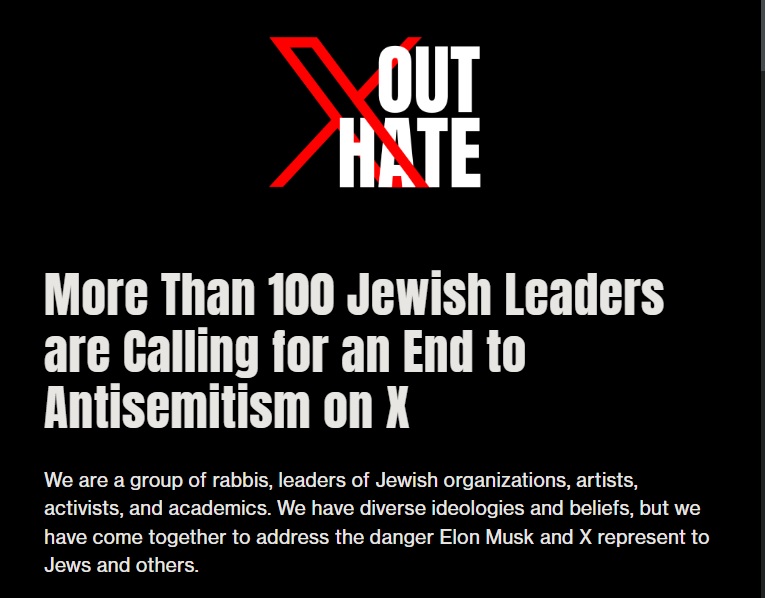 I've reprinted the full letter from "X Out Hate" below (emphasis added):

We are a group of rabbis, leaders of Jewish organizations, artists, activists, and academics. We have diverse ideologies and beliefs, but we have come together to address the danger Elon Musk and X represent to Jews and others.

As Jewish leaders of all backgrounds, current and former leaders of Jewish organizations, artists, and activists from all over the country, we have watched in horror as a new stage in antisemitic discourse has spread like wildfire on one of America's largest social media networks. All of this has been facilitated and enabled by its owner: Elon Musk.

We are speaking of course of X (formerly Twitter), which since his takeover has become a breeding ground for some of the most dangerous antisemitic discourse in America. It has made fringe figures mainstream, spread conspiracy theories that endanger Jews, reinstated neo-Nazis and other antisemites, and destroyed the content moderation that once kept things like Holocaust denial and hate speech minimized.

Just as bad, Musk has himself engaged in antisemitism and promoted other antisemites to his more than 155 million followers. We are alarmed by his targeting of the ADL: not because of our views of the organization (we represent a wide range of views, including some who fundamentally oppose the ADL as well as staunch supporters), but because of the way he has used the organization as a very clear stand in for an antisemitic representation of Jewish power.

But his behavior has a long history going back to his purchase of Twitter. The list is long, but some of the most egregious examples include:

1. His taking part in the #BanTheADL hashtag, a campaign that was started by neo-Nazi figures like Nick Fuentes. His first engagement with the campaign was with another neo-Nazi, Keith Woods.

2. Spreading overt antisemitism, such as the false idea that "65% of Jewish college students support censorship."


3. Repeatedly engaging with and promoting antisemitic accounts.

4. Engaging in antisemitic conspiracy theories, such as linking George Soros with the Rothschilds as well as the Great Replacement conspiracy theory.

5. Reinstating some of the most vicious antisemites in America and beyond, including Andrew Anglin (founder of The Daily Stormer, one of the largest neo-Nazi publications in America) [Ed note: he was banned months ago] and David Icke (popularizer of the Jews as lizard people conspiracy theory).

The result: antisemitic discourse has doubled on X. And since the measurements were taken before Musk's recent outbursts, it's likely that number has continued to rise.

In short, X has become a breeding ground for antisemitism and represents one of the largest dangers to Jews in years. If something does not change, we know what will happen: hate speech and radicalization are always the precursor to violence.

We are deeply disappointed in the failure of media organizations and others in telling this story. Often, his claims about the ADL and other conspiracy theories are taken at face value. The context of his antisemitism is practically ignored. His history and the danger he presents are, in essence, whitewashed. That needs to end. We are here to tell the story others have ignored.

Finally, we call on all companies and governmental organizations engaged in business with Musk to end their relationships with his various companies. Partnering with a man who spreads neo-Nazi ideology should be the exact opposite of what they stand for.

In particular, we call on:

1. Disney, Apple, Amazon, and other large advertisers to stop funding X through their ad spend.

2. Apple and Google to remove X from their respective app stores, per their own rules.

Elon Musk has shown a refusal to back down from the danger he poses to Jews and other minorities and vulnerable communities. Appealing to him directly, as the ADL and others have, has been an abject failure. Outside pressure that hits him where it hurts is the only effective measure. Not doing so will mean the further spread of extremism and antisemitism. Those don't just threaten Jews: they threaten a free society and all those affected by the conspiracy theories tied to antisemitism.

Signed by:

(Affiliations listed for identification purposes only)

Max Socol, Campaigns Director, Progressive Maryland

Rabbi Drew Kaplan

Alex Winter

Rabbi Joshua Stanton

Alan Schwartz, Chair Emeritus, A Wider Bridge

Luc Bernard, Director, The Light in the Darkness

Etan Nechin, Journalist

Jacob Labendz

Eva Borgwardt, Political Director, IfNotNow

Dov Waxman, The Rosalinde and Arthur Gilbert Foundation Chair in Israel Studies, UCLA

Arthur Slepian, Founder, A Wider Bridge

David Hazony, Editor, Jewish Priorities

Rabbi Amitai Fraiman

Rabbi Yitz Greenberg, JJ Greenberg Institute for the Advancement of Jewish Life

Eli Valley

Rabbi Shimon Brand

Rabbi Dr. Jeremiah Unterman

Rabbi Daniel Silverstein

Rabbi Sandra Lawson

Carol S. Stern

Rabbi Alana Suskin

Ruth W. Messinger

Anita Lampel

Ben Lorber, Senior Research Analyst, Political Research Associates

Rabbi Aryeh Bernstein, National Jewish Educator, Avodah

Rabbi Abby Stein

Joshua Potash

Rabbi Michael Stein

Rabbi Jill Zimmerman, Path with Heart

Sam Sittenfield

Dr. Nick Dyrenfurth, John Curtin Research Centre

Danielle Solzman, Film critic, Solzy at the Movies

Rebecca Lesses, Associate Professor of Jewish Studies, Ithaca College

Rabbi Nate DeGroot

Cary Nelson, Emeritus Professor, University of Illinois at Urbana-Champaign

Mike Rothschild, Journalist

Hadar Cohen

Rabbi Rachel Barenblat

Cantor Sara Geller

Rabbi Josh Feigelson

Rabbi Zev-Hayyim Feyer

Rabbi Lisa Bellows

Rabbi Cynthia Minster, Temple Israel of Alameda

Rabbi Stephen Segar

Rabbi Daniel B Gropper, Community Synagogue of Rye

Rabbi Rebecca W. SIrbu

Rabbi Michael Ross, Temple Beth Shalom, Hudson

Rabbi Jason Miller, Mitzvah Rabbi, LLC

Rabbi Dr. Victor M. Gross

Rabbi Andy Green, Congregation Or Tzion (Scottsdale, AZ)

Cantor Hasha Musha Perman, American Conference of Cantors

Rabbi David Weizman

Rabbi Sam Feinsmith

Rabbi Neil Kurshan

Rabbi Bob Gluck

Rabbi David Lerner, Senior Rabbi (Temple Emunah)

Rabbi Francine Roston

Rabbi Shai Held, Hadar Institute

Rabbi Howard Laibson, Rabbi Emeritus, Congregation Shir Chadash, Lakewood

Ariela Laibson

Elad Nehorai

Rafael Shimunov

Sophie Ellman-Golan, JFREJ

Rabbi Douglas E. Krantz

Cantor Chaplain Jennifer Bern-Vogel, Congregation Emanu El

Shira Dicker, President and Founder, Shira Dicker Media Int'l

Rabbi Joshua Ratner

Rabbi Lina Zerbarini, Kehillath Shalom Synagogue

Rabbi Amy Bardack

Rabbi Rachel Goldenberg, Malkhut

Rabbi Dr. Susan Marks, New College of Florida-emerita

Rabbi Mordechai Liebling, POWER Interfaith

Rabbi Michael Rothbaum, Congregation Bet Haverim

Rabbi Cassi Kail

Rabbi Meeka Simerly

Prof. of Physics Stephen Teitel, University of Rochester

Rabbi Sylvia Rothschild

Rabbi Adam Rosenwasser, Temple Emanuel

Andrea, Director, Moving Torah

Rabbi Aryeh Cohen, American Jewish University

Miriam Brosseau, Principal, Tiny Windows Consulting

Joel Swanson, PhD Candidate, History of Judaism, University of Chicago

Libby Goldstein Parker, Executive Director, Jewfolk, Inc.

Mr. Mordy Getz

Mairav Zonszein

Shoshana Brown, Black Jewish Liberation Collective

Rabbi Marianne Novak

Rabbi Isaiah Rothstein

Rabbi Jeremy Morrison

Rabbi Joel Mosbacher

Sami Manausa, Social Media Manager, IfNotNow

Erin Axelman, Co-Executive Director, Tikkun Olam Productions

Rabbi Dr. Yechiel Hoffman

Lydia Thornton

Cantor Olivia Brodsky, ACC and CA

Rabbi Sam Reinstein

Arielle Stein, Rabbinical Student

Rabbi Susan Goldberg, Nefesh

Faculty Yehudah Webster, Inside Out Wisdom and Action Project

Melanie Ehrlich

Rabbi Sara Brandes

Daniel Sieradski, Cofounder: Jewschool, Occupy Judaism, and the Jewish Worker

Rabbi Jason Kimelman-Block, Bend the Arc: Jewish Action

Marisa Kabas, Journalist

Jeffrey Blutinger, Barbara and Ray Alpert Endowed Chair in Jewish Studies, CSULB

Rabbi Marc Margolius

Rabbi Sara Zober

Rabbi Ruth Adar

Dr. Alana M. Vincent, Associate Professor in History of Religion, UmeŚ University

Rabbi Moti Rieber

Mia Brett, PhD, Suffolk Community College

Rabbi Joshua Gutoff
This group's letter comes just one week after Israeli Prime Minister Benjamin Netanyahu personally flew to Silicon Valley to meet with Musk and ask him to censor more "antisemitism" on X.

As I reported last week, the pressure campaign to get Elon Musk to censor more is not only coming from Jonathan Greenblatt at the ADL and Netanyahu in Israel but also Attorney General Merrick Garland at the DOJ and Gary Gensler at the SEC.

Both have reportedly launched investigations into Musk over alleged "perks" he paid out years ago at Tesla.


Follow InformationLiberation on Twitter, Facebook, Gab, Minds and Telegram.