Apple Touts Commitment to 'Mother Nature' in Cringe Climate Change Ad
Chris Menahan
InformationLiberation
Sep. 13, 2023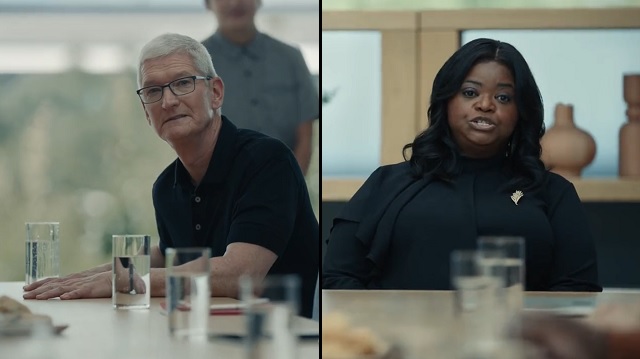 Apple CEO Tim Cook released a cringeworthy ad on Tuesday featuring Apple execs touting their commitment to Mother Nature -- as represented by a sassy black woman -- and pledging to make all Apple products "have a net zero climate impact by 2030."

"Our aim is to permanently remove carbon from the atmosphere," one Apple exec says in the ad.


In the past, our business leaders used their wealth to build Churches, museums, libraries and other highly valuable public works -- now they worship Mother Nature, bow before the altar of "Diversity, Inclusion and Equity" (DIE) and donate millions to the Anti-Defamation League and Southern Poverty Law Center to take away the American people's free speech rights.

In 2017, Tim Cook donated $2 million in Apple funds to the Anti-Defamation League and Southern Poverty Law Center to fight "hate."

Whereas ADL CEO Jonathan Greenblatt is giving Elon Musk and Twitter/X hell for daring to take steps to support free speech, Greenblatt rewarded Cook with an "ADL Courage Against Hate Award" as a kickback.


"'Lo ta'amod al dam re'eikha,' Do not be indifferent to the bloodshed of your fellow man," Cook said during his speech, speaking in Hebrew.

"We only have one message for those who seek to push hate division and violence you have no place on our platforms," Cook told the pro-Israel lobbying group.



Of course, hatred of whites and Christians is to be encouraged and must be taught to children.

Follow InformationLiberation on Twitter, Facebook, Gab, Minds and Telegram.