Elon Musk Addresses #BanTheADL: 'The ADL Was Instrumental in Getting Donald Trump Deplatformed'
Chris Menahan
InformationLiberation
Sep. 13, 2023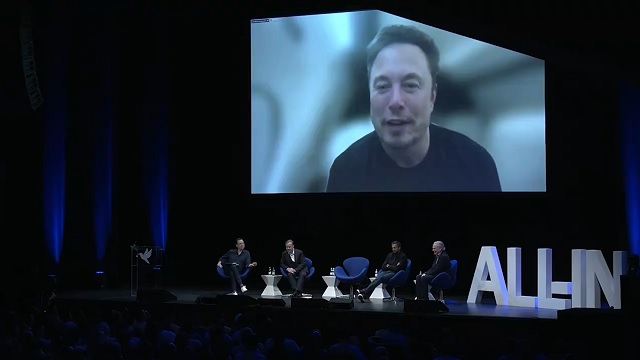 Twitter/X CEO Elon Musk said Tuesday that the Anti-Defamation League was "instrumental" in getting President Trump banned from social media and "made it super clear" that X restoring his account "constituted hateful speech" even though he hadn't made a single post.

"What does this got to do with anti-Semitism?!" Musk asked while appearing at the All-In Summit in Los Angeles.


Musk somewhat bowed to the ADL's pressure last week with X CEO Linda Yaccarino putting out a statement touting their efforts to "combat antisemitism on X" and prevent the "targeting" of Jews, whom she said they consider members of a "protected category."



"Earlier this year we expanded our Violent & Hateful Entities policy, refreshed our policies around Violent Speech to reflect our zero tolerance approach and updated our Abusive Behavior policy to more clearly prohibit targeted harassment," X Safety said in a statement. "On an ongoing basis, we add new slurs, harmful terms and phrases to our operational handbook and proactive heuristics to ensure we're capturing the evolving landscape and use of language to target members of protected categories, including members of the Jewish community."

"We continuously improve our automated enforcement to more quickly identify and remediate instances of hateful conduct (including antisemitic conduct) on the platform by expanding the application of our machine learning models," X Safety continued. "We actively provide ongoing training support and mandatory refresher requirements for our frontline moderators to educate them about different types of antisemitic hate speech and how they may manifest on X."

The ADL gave X a pat on the head for their obedience but said that while "the words are good," "ultimately, actions speak louder than words."

"ADL will continue our work of monitoring both hateful actors on the platform and X's enforcement of its own policies, just as we do with other major social media platforms. We will credit them if we see that they get it right and we will reserve the right to hold them accountable if they get it wrong," the ADL said.


Musk revealed last week that that Jonathan Greenblatt, the "extremely powerful" CEO of the Anti-Defamation League, sought to shake him down for donations just like he did to Adidas, the Brooklyn Nets and Kyrie Irving.


The fact this self-described little "non-profit in New York" can influence at all -- and in many ways bring the supposed richest man in the world to heel -- shows the immense power they wield and contrary to Musk's claims, further shows this censorship agenda is exactly what their donors want.

In May, Greenblatt boasted that he worked together with other Jewish groups to draft the Biden White House's first ever "National Strategy to Counter Antisemitism" which called on "all online platforms" to ban "extremist websites," ban "hate speech" and institute "zero tolerance" policies to protect Jews from "antisemitism."




After lobbying from the ADL and the World Jewish Congress, Meta CEO Mark Zuckerberg in 2020 similarly issued new speech codes for Facebook and Instagram to ban all Holocaust denial as well as all content which depicts "Jewish people running the world or controlling major institutions such as media networks, the economy or the government."

"The idea of banning content that promotes stereotypes of Jewish global control came up a year ago, in a meeting with several Jewish groups convened by Facebook, and was pushed primarily by the World Jewish Congress," The Jewish Daily Forward reported at the time.

Follow InformationLiberation on Twitter, Facebook, Gab, Minds and Telegram.