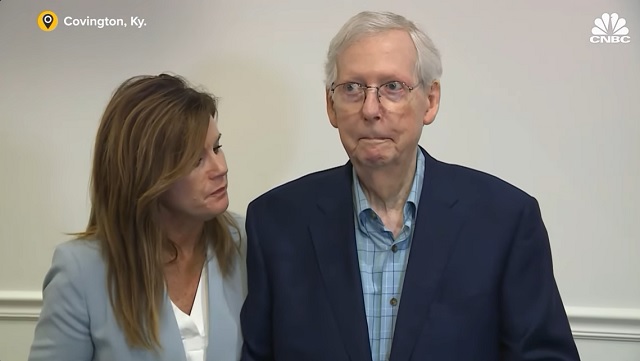 Senate Minority Leader Mitch McConnell, 81, froze up again during a news conference on Wednesday in Covington, Kentucky.


McConnel was seen "stopping for more than 30 seconds after he was asked if he would run for re-election," NBC News reports:

The Kentucky Republican froze in July at a news conference on Capitol Hill, going silent for 19 seconds before being escorted away from the cameras. McConnell, 81, returned shortly afterward and continued his news conference, telling reporters, "I'm fine."

When it became apparent that McConnell had frozen again on Wednesday, an aide came up to him and asked, "Did you hear the question, senator?" McConnell continued to be unresponsive.

Once McConnell re-engaged, he responded briefly to another question about Kentucky Attorney General Daniel Cameron, a Republican; his aide needed to repeat the question to him. McConnell was then asked about former President Donald Trump, another question that had to be repeated. McConnell brushed off the question because he does not usually engage in Trump-related topics.

He then left. Reporters did not ask McConnell about the episode before he departed.

"Leader McConnell felt momentarily lightheaded and paused during his press conference today," a McConnell spokesperson said.

McConnell "feels fine," but will consult a doctor before his next event as "a prudential measure," an aide said.
Fetterman, Feinstein, McConnell and Biden all appear to be struggling with age-related issues yet none of them want to step down.

At this rate, it wouldn't shock me if one of them just dropped dead on live TV in the coming months.

I'm no fan of McConnell but it does concern me that he could be replaced with someone even worse. Whatever his faults, he deserves credit for keeping America-hating psycho Merrick Garland off the Supreme Court.

Follow InformationLiberation on Twitter, Facebook, Gab, Minds and Telegram.