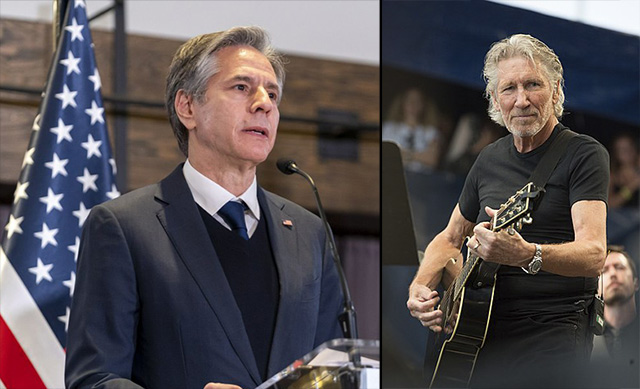 The US State Department under Secretary of State Antony Blinken smeared rock star Roger Waters as an anti-Semite on Tuesday over a deliberately misinterpreted performance of his smash hit album "The Wall" in Germany that was criticizing fascism.

From Antiwar, "State Department Falsely Accuses Roger Waters of Antisemitism":

Waters has come under criticism for a May 17 show in Berlin where he donned an outfit that resembled a Nazi uniform, part of a performance of the legendary Pink Floyd album "The Wall."

In response to the criticism, Waters released a statement that said the elements of the show he was criticized for are "quite clearly a statement in opposition to fascism, injustice, and bigotry in all its forms."

"Attempts to portray those elements as something else are disingenuous and politically motivated. The depiction of an unhinged fascist demagogue has been a feature of my shows since Pink Floyd's 'The Wall' in 1980," Waters said.

Due to his history of being supportive of Palestinian rights and his critiques of the Israeli government, footage of Waters' concert was taken out of context on social media in an effort to smear him as an antisemite. Deborah Lipstadt, the US special envoy to combat antisemitism, joined in on the smears on Twitter, accusing Waters of "despicable Holocaust distortion."


On Monday, independent journalist Sam Husseini and AP reporter Matt Lee asked State Department spokesman Vedant Patel about Lipstadt's comments.


"It's an obvious attack on fascism, and yet your ambassador is denouncing it and pretending that Roger Waters, presumably because he defends Palestinian rights as well as other people's rights, is an example of antisemitism. Are you going to distance yourself from this, or are you going to back down on this?" Husseini said.

Patel said he wasn't aware of the situation, but the State Department gave Lee a written response on Tuesday and backed up Lipstadt's smear of Waters.

"The concert in question, which took place in Berlin, contained imagery that is deeply offensive to Jewish people and minimized the Holocaust," the department said. "The artist in question has a long track record of using antisemitic tropes to denigrate Jewish people."
Waters has been doing the same act for decades and Blinken and Lipstadt know this but they're smearing him anyways because he criticizes Israel.




The Anti-Defamation League -- which Elon Musk said should simply go by the Defamation League -- has effectively merged with the US government at this point.

Two weeks ago, the Biden White House released their "National Strategy to Counter Antisemitism" that was written mostly by the ADL which called on "all online platforms" to ban "extremist websites," ban "hate speech" and institute "zero tolerance" policies in the name of fighting "anti-Semitism."

Now, the State Department is intentionally smearing and defaming Roger Waters on behalf of the State of Israel.

You can bash America all you like -- Blinken and Lipstadt regularly do themselves -- but don't you dare criticize Israel or else they'll come down on you like a ton of bricks!

This is a coordinated attack on Waters. The Board of Deputies of British Jews in the UK is also lobbying to have Waters banned from the country and charged with hate crimes.


In letters to the Board of Deputies of British Jews, both Keir Starmer, the leader of the Labour Party, and Michael Gove, Secretary of State for Levelling Up, Housing and Communities condemned Waters and expressed support for him being put under investigation.

"It is unacceptable that Jews in the UK continue to encounter antisemitism," Gove wrote in his letter to the Board of Deputies. "The UK has some of the strongest legislation in the world to tackle hate crime, and if you feel anything that Roger Waters says or does crosses the line into that which is unlawful, this should of course be reported to the Police."

"The Labour Party stands with the Jewish community and fully condemns Roger Waters," Keir Starmer wrote in his letter. "Many people will think of Roger Waters as famous for being a member of one of the most important bands in history, but he is now more synonymous with spreading deeply troubling antisemitism and that is why I believe this show should not be allowed to go ahead. Views like this should not be given a platform."

[Right header image of Roger Waters by Digboston, CC BY 2.0]

Follow InformationLiberation on Twitter, Facebook, Gab, Minds and Telegram.