Ukraine Had Plan to Bomb Nova Kakhovka Dam As a 'Last Resort,' Conducted 'Test Strike' Last Year And Blamed Russia
Chris Menahan
InformationLiberation
Jun. 06, 2023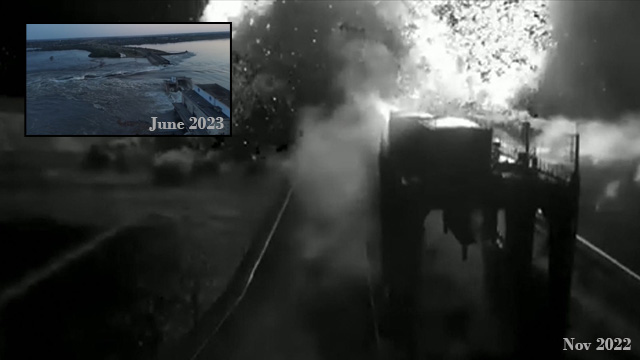 Kherson Counteroffensive Major General Andrey Kovalchuk told the Washington Post in Dec 2022 that Ukraine has plans to bomb the Nova Kakhovka Dam as a "last resort" and even conducted a "test strike" on the dam with American HIMARS (which they falsely blamed on the Russians).


From Andrew Korybko (via ZeroHedge), "Kiev's Long Term Plans To Blow Up The Kakhovka Dam"):

The partial destruction of the Kakhovka Dam on early Tuesday morning saw Kiev and Moscow exchange accusations about who's to blame, but a report from the Washington Post (WaPo) in late December extends credence to the Kremlin's version of events. Titled "Inside the Ukrainian counteroffensive that shocked Putin and reshaped the war", its journalists quoted former commander of November's Kherson Counteroffensive Major General Andrey Kovalchuk who shockingly admitted to planning this war crime:

"Kovalchuk considered flooding the river. The Ukrainians, he said, even conducted a test strike with a HIMARS launcher on one of the floodgates at the Nova Kakhovka dam, making three holes in the metal to see if the Dnieper's water could be raised enough to stymie Russian crossings but not flood nearby villages. The test was a success, Kovalchuk said, but the step remained a last resort. He held off."

His remark about how "the step remained a last resort" is pertinent to recall at present considering that the first phase of Kiev's NATO–backed counteroffensive completely failed on Monday according to the Russian Ministry of Defense. Just like Ukraine launched its proxy invasion of Russia in late May to distract from its loss in the Battle of Artyomovsk, so too might does it seem to have gone through with Kovalchuk's planned war crime to distract from this most recent embarrassment as well.

The abovementioned explanation isn't as far-fetched as some might initially think either. After all, one of complexity theory's precepts is that initial conditions at the onset of non-linear processes can disproportionately shape the outcome. In this context, the first failed phase of Kiev's counteroffensive risked ruining the entire campaign, which could have prompted its planners to employ Kovalchuk's "last resort" in order to introduce an unexpected variable into the equation that might improve their odds.
Ukraine struck the dam in Nov 2022 but blamed Russia for the attack.

You can see in this tweet from Nov 2022 (falsely blaming Russia) the three holes Kovalchuk was likely describing.



Today, Ukraine is once again blaming Russia for the dam's destruction.


"Russian terrorists. The destruction of the Kakhovka hydroelectric power plant dam only confirms for the whole world that they must be expelled from every corner of Ukrainian land," Zelensky said Tuesday in a statement on Twitter. "Not a single meter should be left to them, because they use every meter for terror. It's only Ukraine's victory that will return security. And this victory will come. The terrorists will not be able to stop Ukraine with water, missiles or anything else."

"All services are working. I have convened the National Security and Defense Council. Please spread official and verified information only," Zelensky said.


California Rep. Ted Lieu, without evidence, declared Russia guilty of "another war crime" and called for them to be "designated as a state sponsor of terrorism."


EU commission president Ursula von der Leyen, without evidence, also declared Russia guilty of "war crimes."


Meanwhile, the White House said Tuesday afternoon that they "cannot say conclusively what happened at this point."


[Embed starts at 6:12]

I'm reminded of an incident last year where Ukraine struck Poland with a missile only for Zelensky to come out and falsely accuse Russia of being behind the attack.


Zelensky tried to use the (false flag?) attack to con NATO into war but the White House wouldn't go along with his lies. Biden came out and said it's "highly unlikely" Russia was behind the strike while other anonymous U.S. officials leaked to the press that Ukraine was most likely to blame.

Follow InformationLiberation on Twitter, Facebook, Gab, Minds and Telegram.