State Dept Won't Say If They're Negotiating With Ukraine to Get U.S. Citizen Jailed For Speech Released
Chris Menahan
InformationLiberation
May. 30, 2023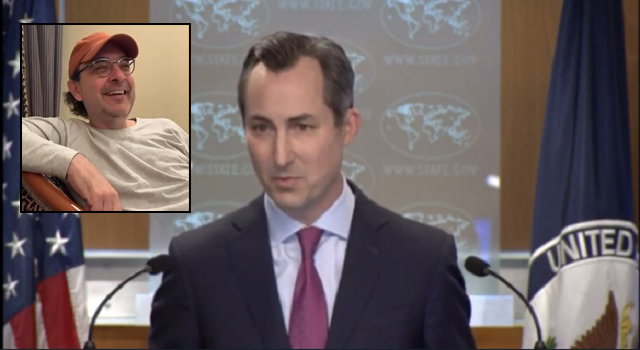 The State Department on Sunday refused to say whether they are negotiating with Ukraine to secure the release of US citizen Gonzalo Lira, a journalist and commentator who was arrested earlier this month in a dramatic raid for criticizing the Zelensky regime.


From Antiwar, "State Department Won't Say If It's Working to Free US Citizen Detained in Ukraine":

The State Department has refused to say if it's engaging with the Ukrainian government over American citizen Gonzalo Lira, who was detained by the Security Service of Ukraine (SBU) due to his political views on the conflict with Russia.

Lira has a popular YouTube channel and a large following on Twitter and Telegram. He is also a writer who has contributed to several media outlets, including Business Insider. Lira was born in California and is a dual citizen of the US and Chile and had been living in Kharkiv, Ukraine, throughout the war.

Lira is a critic of the Ukrainian government and was arrested by the SBU on charges of justifying the Russian invasion. "After the start of the full-scale invasion, the blogger was one of the first to support the Russian invaders and glorify their war crimes," the SBU said in a press release referring to Lira.

The SBU also accused Lira of "discrediting the top military and political leadership and the Defense Forces of our state." He was charged under sections 2 and 3 of Article 436-2 of Ukraine's criminal code, which outlaws the "distribution of materials" that justify Russia's actions going back to 2014.

Epoch Times reporter Liam Cosgrove asked State Department spokesman Matthew Miller if the administration was aware of Lira's detainment and how the US feels about Ukraine arresting an American for speech.

"So I will say in general that we're aware of the report. We obviously support the exercise of freedom of speech anywhere in the world, and I'll leave it at that," Miller said.

When asked if the administration was working to secure Lira's release, Miller said, "I'm going to leave my comments where I just left them."
Kudos to Cosgrove for trying to get Lira freed.



"Our" media all celebrated Lira's arrest and the State Department before this said nothing about it publicly.

Follow InformationLiberation on Twitter, Facebook, Gab, Minds and Telegram.