Sai Varshith Kandula Identified As Suspect Who Crashed Truck Into White House Security Gate While Transporting Swastika Flag
Chris Menahan
InformationLiberation
May. 23, 2023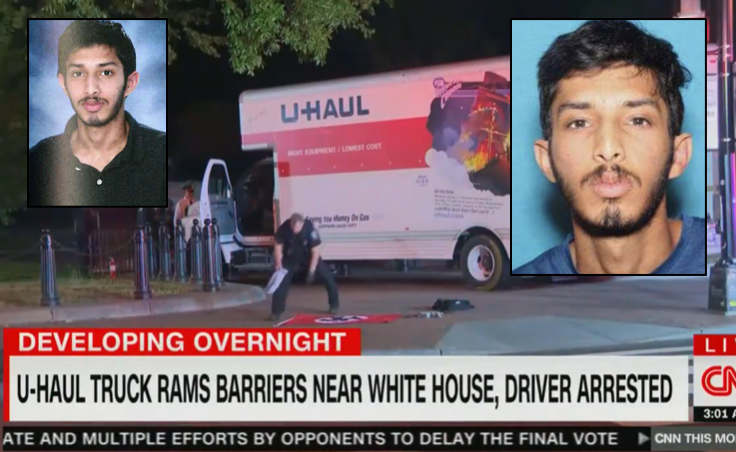 Indian 19-year-old Sai Varshith Kandula has been identified by police as the man who allegedly crashed a U-Haul truck into the security gates outside the White House on Monday night while transporting a Swastika flag.

From The Daily Mail, "Missouri teenager Sai Varshith Kandula, 19, told FBI he wanted to kill Biden and 'take over' after crashing U-Haul truck into White House security gates while carrying swastika flag":

The Missouri teenager who crashed a U-Haul truck into the White House's security barriers last night has been charged with trying to kill, kidnap or harm the president, vice president or a family member.

Sai Varshith Kandula, 19, from Chesterfield, Missouri, was arrested at the scene after plowing the vehicle into security barriers at around 10pm. After crashing the vehicle, he jumped out of the van and started waving a Nazi flag.

Once in custody, Kandula told the FBI he wanted to overthrow the government, kill President Biden and take over himself. He is now being held in custody.

Kandula has been charged with 18 U.S. Code § 879 - threats against former Presidents and certain other persons protected by the Secret Service. It is punishable by up to five years in prison.
No one was harmed in the attack.

The police emptied the contents of Kandula's U-Haul out on the street and laid out the Swastika flag he was transporting so the media could take plenty of pictures of it.


Unsurprisingly, the media portrayed the attack as another "white supremacist" attack by a "Nazi."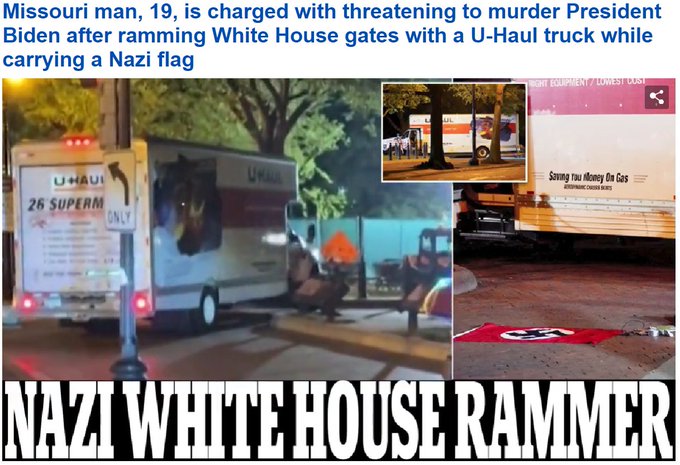 "To reiterate: a man with a Nazi flag tried to attack the White House the same week the White House is set to announce a strategy to combat antisemitism," incoming Jewish Council for Public Affairs CEO Amy Spitalnick said Tuesday on Twitter. "White supremacist violence is the most dire domestic terror threat."


"Last week, the House GOP held a hearing on 'Left Wing Violence.' I testified that violent extremism disproportionately comes from the right, including and especially white supremacists," Spitalnick said. "GOP members lectured me that I was ignoring the real threats."


After the alleged attacker was identified as Sai Varshith Kandula, Spitalnick doubled down and tweeted: "Lots to still learn but the usual suspects are already claiming that the White House U-Haul attack is a 'false flag.' Or that the driver couldn't possibly have been motivated by white supremacy bc his name doesn't sound white. You don't have to be white to be a white supremacist."


Follow InformationLiberation on Twitter, Facebook, Gab, Minds and Telegram.