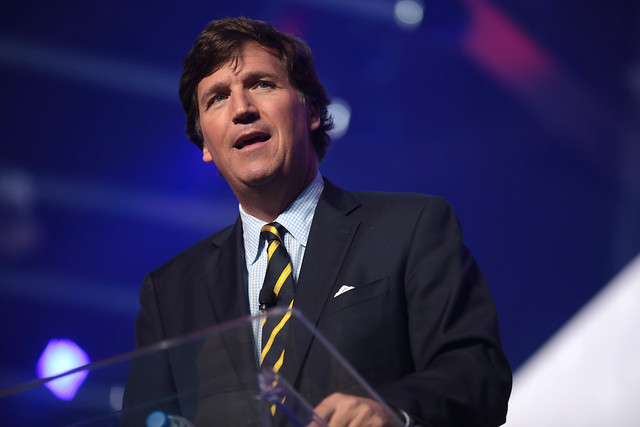 A text Tucker Carlson sent criticizing a group of purported Trump supporters for jumping an "Antifa kid" in a three-on-one beatdown allegedly contributed to his eventual firing, the New York Times reports.

Even though Carlson was defending an Antifa and deploring mob violence, his crime was apparently noticing that white men tend not to fight in a dishonorable fashion.

From The New York Times, "Carlsonís Text That Alarmed Fox Leaders: 'It's Not How White Men Fight'":

A text message sent by Tucker Carlson that set off a panic at the highest levels of Fox on the eve of its billion-dollar defamation trial showed its most popular host sharing his private, inflammatory views about violence and race.

The discovery of the message contributed to a chain of events that ultimately led to Mr. Carlson's firing.

In the message, sent to one of his producers in the hours after violent Trump supporters stormed the Capitol on Jan. 6, 2021, Mr. Carlson described how he had recently watched a video of a group of men -- Trump supporters, he said -- violently attacking "an Antifa kid."

It was "three against one, at least," he wrote.

And then he expressed a sense of dismay that the attackers, like him, were white.

"Jumping a guy like that is dishonorable obviously," he wrote.

"It's not how white men fight," he said. But he said he found himself for a moment wanting the group to kill the person he had described as the Antifa kid.

Tucker Carlson's Text to a Producer

EXHIBIT 276

Tucker Carlson January 7, 2021 -- 04:18:04 PM UTC

A couple of weeks ago, I was watching video of people fighting on the street in Washington. A group of Trump guys surrounded an Antifa kid and started pounding the living shit out of him. It was three against one, at least. Jumping a guy like that is dishonorable obviously. It's not how white men fight. Yet suddenly I found myself rooting for the mob against the man, hoping they'd hit him harder, kill him. I really wanted them to hurt the kid. I could taste it. Then somewhere deep in my brain, an alarm went off: this isn't good for me. I'm becoming something I don't want to be. The Antifa creep is a human being. Much as I despise what he says and does, much as I'm sure I'd hate him personally if I knew him, I shouldn't gloat over his suffering. I should be bothered by it. I should remember that somewhere somebody probably loves this kid, and would be crushed if he was killed. If I don't care about those things, if I reduce people to their politics, how am I better than he is?

For years, Mr. Carlson espoused views on his show that amplified the ideology of white nationalism. But the text message revealed more about his views on racial superiority.
"It revealed that Tucker has watched World Star Hip Hop," Steve Sailor commented. "So, Tucker was fired for holding white Americans to a higher standard of behavior."

Incidentally, there was a vicious gang beating of a white man in Oakland, California over the weekend by a group of nonwhites during a street takeover. While the victim was bleeding on the ground, a black man could be seen going over to the knocked-out white man and shoving his head into a bucket for laughs.


The New York Times had nothing to say about it.

[Header image of Tucker Carlson by Gage Skidmore, CC BY-SA 2.0]

Follow InformationLiberation on Twitter, Facebook, Gab, Minds and Telegram.