U.S. Marine Veteran Killed While 'Volunteering' for Foreign Legion in Ukraine
Chris Menahan
InformationLiberation
May. 02, 2023


A "former" US marine described by friends as a "lifelong leftist organizer" was reportedly killed last week in Bakhmut while fighting for Ukraine's Foreign Legion.

The media is not calling Cooper "Harris" Andrews, 26, a fighter (or US proxy warrior) but is instead referring to him as a "volunteer" and a "veteran" who died not in combat with Russia on behalf of the US but "evacuating civilians" from Bakhmut.

From Fox News, "US Marine veteran killed in Ukraine, officials say":

A U.S. Marine veteran was killed in Ukraine last week, according to an activist group in the country.

Cooper "Harris" Andrews, 26, was hit by a mortar April 19, during a battle for a crucial road to Bakmut, the Resistance Committee said in a statement posted on social media.

He died while defending evacuees alongside others who were killed, the group said.

Andrews joined the Foreign Legion, a group of foreign fighters assisting Ukrainian forces since being invaded by Russia, according to social media posts.
Andrews' service in the Marines just so happened to have allegedly ended one month before the war began.
He served in the Marines from January 2017 to Jan. 16, 2022, a U.S. official told Fox News. He was stationed in Camp Lejeune, North Carolina, before being discharged as a ground electronics transmission systems maintainer and traveling to Ukraine.

"We can confirm the death of a U.S. citizen in Ukraine. We are in touch with the family and providing all possible consular assistance," the U.S. State Department said in a statement. "Out of respect for the family's privacy during this difficult time, we have nothing further to add."
We know from the Pentagon leaks that the US has special forces on the ground in Ukraine.

How many other US veterans are "volunteering" in Ukraine?

An associate of Andrews' shared a thread Sunday on Twitter reporting on his death:




"If I am martyred remember me with my hammer," Andrews told a friend.

"Putin's regime must die by any means necessary," the "volunteer" (who was definitely purely focused on evacuating civilians) said. "Humanity's hope lie's [sic] I'm [sic] Kharkov, the city must survive."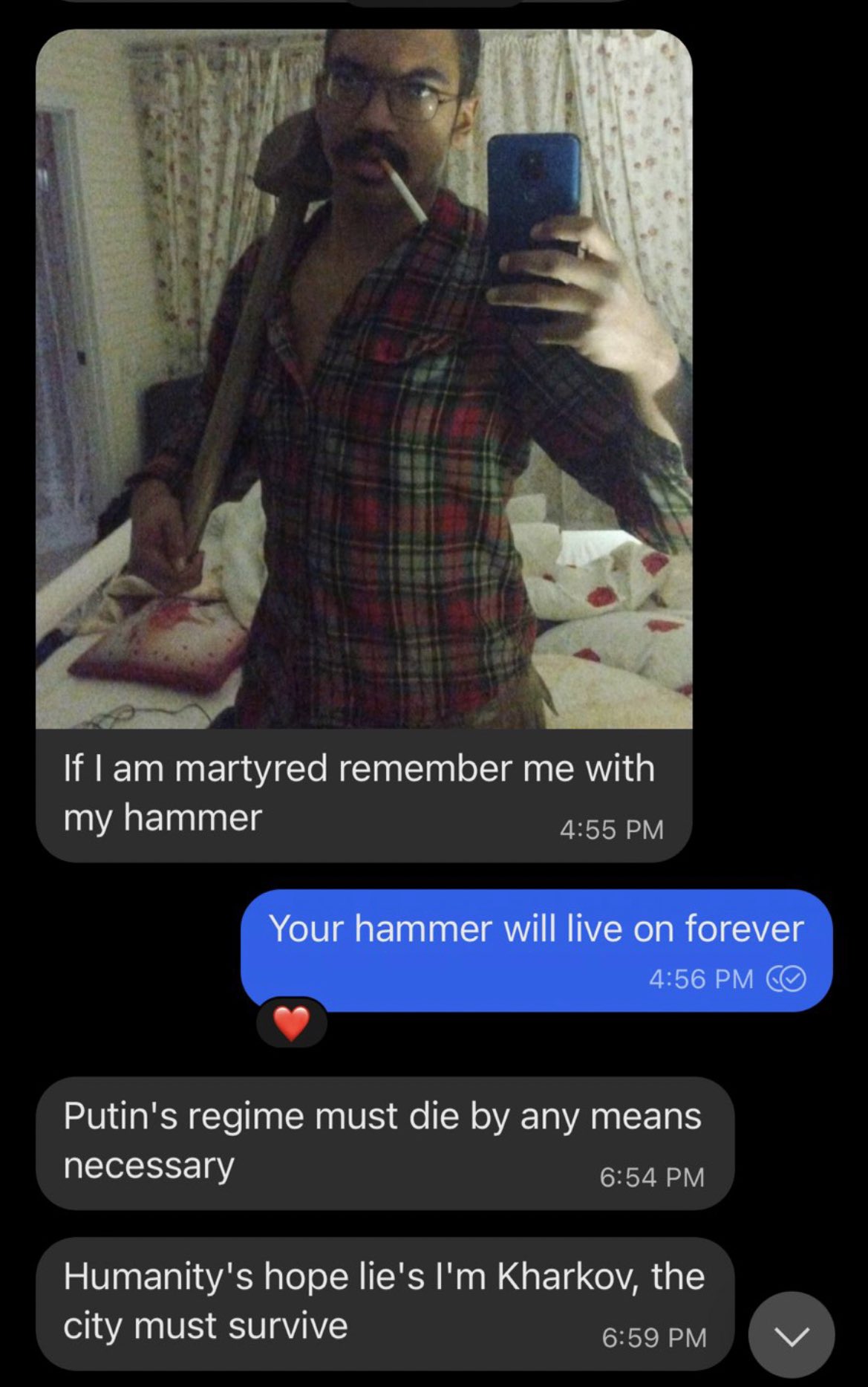 Follow InformationLiberation on Twitter, Facebook, Gab, Minds and Telegram.