DNC Says There Will Be No Primary Debates As Poll Finds Majority of Dems Say Biden Shouldn't Run Again
Chris Menahan
InformationLiberation
Apr. 23, 2023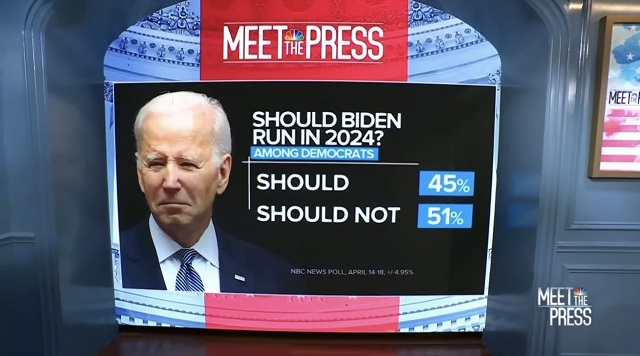 Only 45 percent of Democrats want Joe Biden to run again in 2024 compared to 51 percent who think he should be put out to pasture, according to a new NBC News poll.

From The Hill, "Majorities don't want Biden, Trump to run in 2024: survey":

Most Americans in a new poll don't want former President Trump to run for the White House in 2024, and a majority doesn't want President Biden to run for reelection, either, as he prepares for an expected campaign launch that could come as early as this week.

A new NBC News poll found that 60 percent of Americans think Trump shouldn't try to retake the Oval Office -- including roughly a third of Republicans. Thirty percent of those who think he shouldn't campaign in 2024 cite the criminal charges he faces in New York as a "major" reason.

At the same time, 70 percent of Americans think Biden shouldn't seek a second term -- including 51 percent of Democrats. Forty-eight percent of those who said he shouldn't run again cited his age as a "major" reason.
The will of the public matters little as Biden will be forced upon them.

The DNC announced on Thursday that they're not going to be doing any debates.

"The national Democratic Party has said it will support Biden's reelection, and it has no plans to sponsor primary debates," The Washington Post reported.

Robert F. Kennedy Jr. announced he's running against Joe Biden in the Democratic primary last week and immediately garnered 14 percent support among Biden voters.



Kennedy is a far better person and would be a far better president but the deck is stacked against him.

Follow InformationLiberation on Twitter, Facebook, Gab, Minds and Telegram.