Trump: 'I Have a Trump Hating Judge' Whose 'Daughter Worked for Kamala Harris and Now Receives Money From the Biden/Harris Campaign'
Chris Menahan
InformationLiberation
Apr. 05, 2023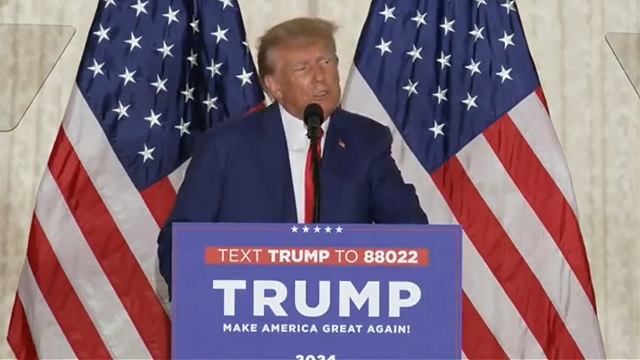 Former President Donald Trump said during a speech at Mar-a-Lago on Tuesday after his arraignment that he's been assigned a "Trump hating judge with a Trump hating wife and family, whose daughter worked for Kamala Harris and now receives money from the Biden/Harris campaign."




"Judge Merchan's daughter, Loren, previously worked for Kamala Harris's 2020 presidential campaign as 'Director of Digital Persuasion,' according to her deleted LinkedIn page, which listed her pronouns," Townhall's Mia Cathell reports.

"Loren Merchan, the daughter of the judge handling Trump's case, is now president of Authentic Campaigns, a consulting company that has fundraised over $250 million for progressive campaigns. Its clients include Kamala Harris, the Biden-Harris campaign, and Gavin Newsom," Cathell said. "A video of Kamala Harris being greeted by supporters on the 2020 presidential campaign trail autoplays on the advertising agency's landing page. Loren Merchan's consulting company also proudly lists the Biden-Harris campaign at the top of its client roster."



There seems to be a general consensus the charges are quite weak.




Nonetheless, does that even matter when the venue is rigged and the jurors are totally biased?

Follow InformationLiberation on Twitter, Facebook, Gab, Minds and Telegram.