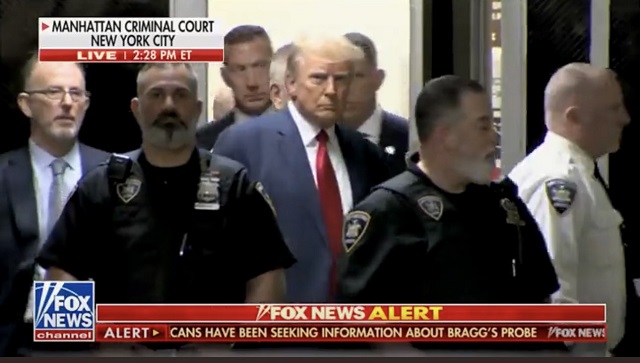 Former President Donald Trump was placed under arrest on Tuesday in Manhattan after voluntarily surrendering to Soros-funded District Attorney Alvin Bragg for his arraignment on dozens of manufactured criminal charges.





The Daily Mail is reporting that Trump is facing a maximum of 136 years in prison.

From The Daily Mail, "Trump faces a maximum of 136 years in jail as unsealed indictment reveals 34 FELONY charges for 'catch and kill scheme' that included '$30,000 hush money to Trump Tower doorman who claimed Donald had a child out of wedlock'":

Donald Trump pleaded not guilty to 34 counts of falsifying business records as he faced a New York judge - and became the first President of the United states to be arraigned and charged with a crime.

'Not guilty,' Trump said when asked how he pleaded.

Trump, 76, sat alongside his defense team in the Manhattan court room with his hands folded on his lap and a stony-faced look for the unprecedented hearing in the Stormy Daniels hush money case.

The charges are related to a $30,000 payoff to a doorman who was trying to sell information about a child that Trump allegedly fathered out of wedlock; $150,000 to former Playboy model Karen McDougal, and a $130,000 payment to Daniels.

'It's not just about one payment,' District Attorney Alvin Bragg said at a press conference after the hearing. 'It is 34 business records. Uh 34 false statements and business records. They were concealing criminal conduct.'

All together the charges - falsifying business records in the first degree - carry a maximum sentence of more than 100 years in prison under New York law but, even if convicted on all charges, it's unlikely Trump would be sentenced to that much time. Each charge is a low level felony that carries a maximum of four years in prison for each count.

There was no formal conspiracy charge but the state of facts released by prosecutors describes how Trump 'orchestrated a scheme' with others 'to influence the 2016 presidential election by identifying and purchasing negative information about him to suppress its publication and benefit the Defendant's electoral prospects.'

During the hearing, Assistant District Attorney Christopher Conroy argued the payments were part of 'an unlawful plan to identify and suppress negative information that could have undermined' Trump's presidential campaign.
"While falsifying business records in New York on its own is a misdemeanor punishable by no more than one year in prison, it is elevated to a felony punishable by up to four years in prison when done to advance or conceal another crime," Reuters reports.

From CNN, "Trump is under arrest ahead of arraignment":

Former President Donald Trump has arrived at the Manhattan district attorney's office in lower Manhattan, where he is under arrest and in police custody before his upcoming arraignment.

Trump is expected to be fingerprinted as part of the arrest, though it's still unclear whether his mugshot will be taken. He will next be brought to a courtroom, where he will be arraigned — an appearance that is expected to be quick and routine but represents a surreal and historic moment in US history.

Trump is not expected to be handcuffed following his arrest, as he will remain under constant law enforcement protection.
From Yahoo News, "Exclusive: Trump to be charged Tuesday with 34 felony counts, but spared handcuffs and mug shot":

Donald Trump will be placed under arrest on Tuesday and informed that he has been charged with 34 felony counts for falsification of business records, according to a source who has been briefed on the procedures for the arraignment of the former president.

A New York City police arrest report summarizing the charges against Trump will then be prepared and entered into the court system before he is led into a courtroom to be formally arraigned on the charges, none of which are misdemeanors.
"Heading to Lower Manhattan, the Courthouse," Trump said on Truth Social. "Seems so SURREAL — WOW, they are going to ARREST ME. Can't believe this is happening in America. MAGA!"





"THE RADICAL LEFT DEMOCRATS HAVE CRIMINALIZED THE JUSTICE SYSTEM. THIS IS NOT WHAT AMERICA WAS SUPPOSED TO BE!" Trump said in another post earlier today.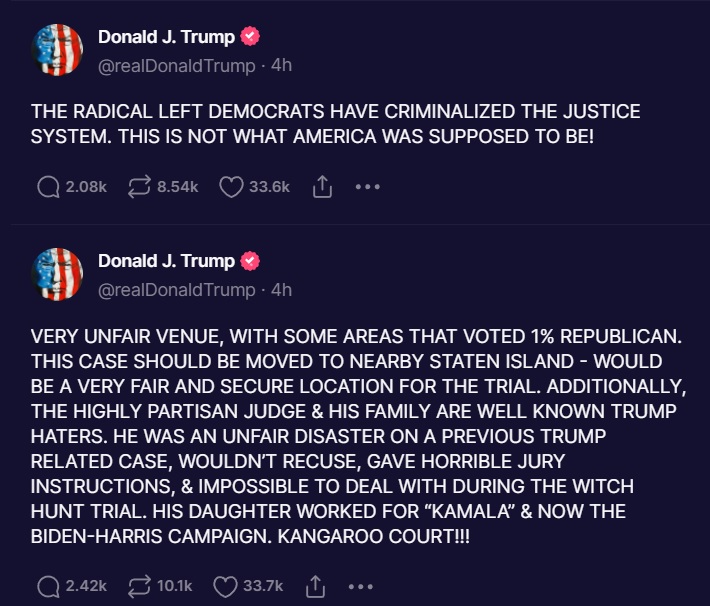 Trump also raged at Bragg for having "illegally leaked" the "33 points of indictment" to the media.

If Bragg wants to "clean up his reputation" he should do the honorable thing and "indict himself," Trump said.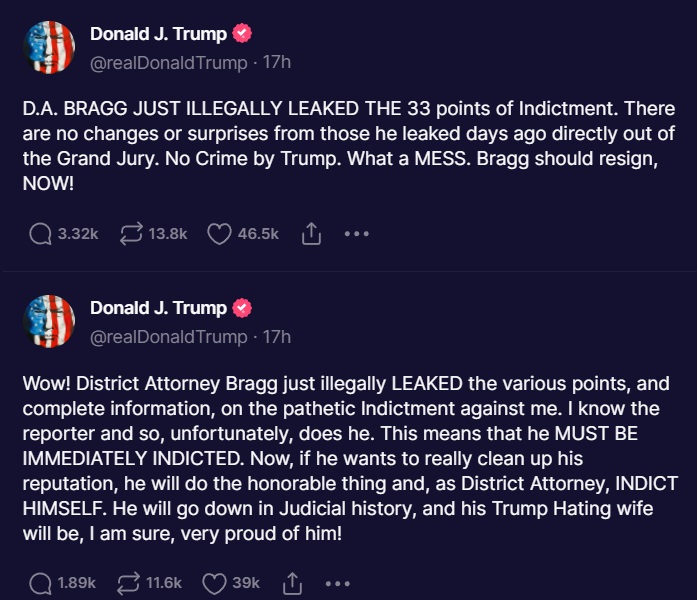 [This post has been updated with additional news from The Daily Mail on Bragg's charges against Trump.]
[Header image by Gage Skidmore, CC BY-SA 2.0]
Follow InformationLiberation on Twitter, Facebook, Gab, Minds and Telegram.