Canada: Trans Activist Attacks Peaceful Protester - Police Look On And Laugh, Blame Victim For 'Inciting' Assault
Chris Menahan
InformationLiberation
Apr. 03, 2023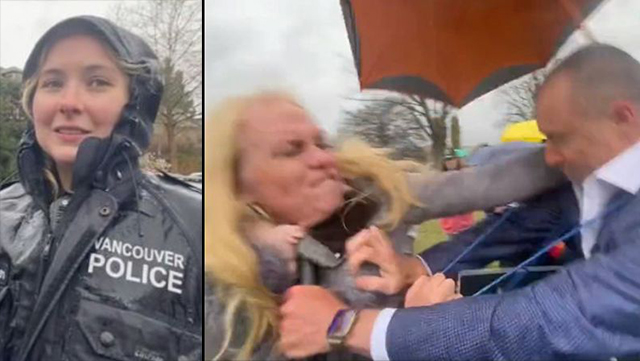 Anarcho-tyranny.






From The Post Millennial, "'Billboard Chris' assaulted in Vancouver by angry trans activists; police officer says he was 'inciting violence' with his speech":

Child safety advocate Chris Elston, otherwise known as 'Billboard Chris,' was assaulted multiple times by trans activists as the Vancouver police stood by and watched it happen and the investigating officer for the incident claimed that Chris had "incited violence" by screaming at activists, and that the assault was a "mutual fight."

Elston showed up at Grandview Park in Vancouver where they were hosting a "Trans Day of Visibility" Rally and immediately upon his arrival activists began harassing him, which escalated into an incident where Eslton received a cut on his nose. On Twitter, he said this was the time that he called 911, and the police showed up within minutes.

Elston was then assaulted again as police seemed to stand by and watch the tensions boil over. Elston was conducting an interview as trans activists began to surround him and shout expletives. One activist was shouting in his ear, and as he attempted to move away he was grabbed by the throat and tossed to the ground.

Police stepped in to prevent any further harm to Elston at that point. In the aftermath the investigating officer stated on camera that Elston came to the park that day to "incite violence by forcing his opinion on people. Saturday on Twitter the Vancouver Police Department announced that they have launched an investigation into the incident.
After Dan Dicks' videos of the assault went viral, Vancouver Deputy Chief Howard Chow justified police's lack of intervention by claiming, "Sometimes, jumping in and arresting one or two at the moment will only incite or inflame the situation."


After a Twitter user told Chow he should be embarrassed by his officer's conduct, Chow responded saying, "Well, what I am embarrassed and appalled about are the vile and abusive comments this officer and other officers have had to endure on Twitter."

"This is #NotOkay," Chow added.


Chow down on that one, bigots!

Follow InformationLiberation on Twitter, Facebook, Gab, Minds and Telegram.