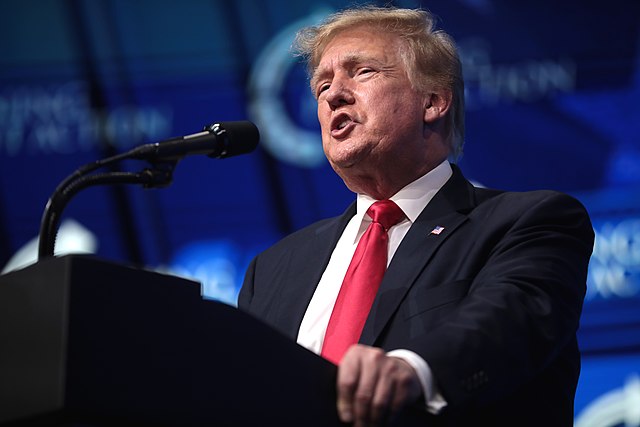 Former President Donald Trump responded to news of Manhattan DA Alvin Bragg securing an indictment against him on Thursday by going off on the Soros-funded prosecutor for carrying out "political persecution and election interference at the highest level in history."

Trump's statement reads (via ZeroHedge):

'This is Political Persecution and Election Interference at the highest level in history. From the time I came down the golden escalator at Trump Tower, and even before I was sworn in as your President of the United States, the Radical Left Democrats - the enemy of the hardworking men and women of this Country - have been engaged in a Witch-Hunt to destroy the Make America Great Again movement. You remember it just like I do: Russia, Russia, Russia; the Mueller Hoax; Ukraine, Ukraine, Ukraine; Impeachment Hoax 1; Impeachment Hoax 2; the illegal and unconstitutional Mar-a-Lago raid; and now this.

'The Democrats have lied, cheated and stolen in their obsession with trying to 'Get Trump,' but now they've done the unthinkable - indicting a completely innocent person in an act of blatant Election Interference.

"Never before in our Nation's history has this been done. The Democrats have cheated countless times over the decades, including spying on my campaign, but weaponizing our justice system to punish a political opponent, who just so happens to be a President of the United States and by far the leading Republican candidate for President, has never happened before. Ever.

"Manhattan DA Alvin Bragg, who was hand-picked and funded by George Soros, is a disgrace. Rather than stopping the unprecedented crime wave taking over New York City, he's doing Joe Biden's dirty work, ignoring the murders and burglaries and assaults he should be focused on. This is how Bragg spends his time!

"I believe this Witch-Hunt will backfire massively on Joe Biden. The American people realize exactly what the Radical Left Democrats are doing here. Everyone can see it. So our Movement, and our Party - united and strong - will first defeat Alvin Bragg, and then we will defeat Joe Biden, and we are going to throw every last one of these Crooked Democrats out of office so we can MAKE AMERICA GREAT AGAIN!"
"Bragg reportedly has secured his indictment. He has made history, but it is an inglorious moment where even some on the left have criticized the effort," law professor Jonathan Turley commented on Fox News. "This is a patently political prosecution. Bragg and NY AG James ran on bagging Trump. This has fulfilled that pledge but, if the indictment follows the course described in coverage, it is deeply flawed theory. We will have to wait to see the indictment. ...The objection is not to the prosecuting of a misdemeanor but the reported effort to extend the statute of limitations under an unprecedented bootstrapping theory. We have not heard of an alternative criminal theory."


Florida Gov. Ron DeSantis, who tanked in the polls last week after issuing a weak response to Trump's indictment, is now saying Florida "will not assist in an extradition request given the questionable circumstances at issue with this Soros-backed Manhattan prosecutor and his political agenda."


"The weaponization of the legal system to advance a political agenda turns the rule of law on its head," DeSantis tweeted. "It is un-American. The Soros-backed Manhattan District Attorney has consistently bent the law to downgrade felonies and to excuse criminal misconduct. Yet, now he is stretching the law to target a political opponent. Florida will not assist in an extradition request given the questionable circumstances at issue with this Soros-backed Manhattan prosecutor and his political agenda."

Everything DeSantis does is political theatre designed to fail, so I would put zero stock in that statement.

"Alvin Bragg has irreparably damaged our country in an attempt to interfere in our Presidential election," House Speaker Kevin McCarthy commented. "As he routinely frees violent criminals to terrorize the public, he weaponized our sacred system of justice against President Donald Trump. The American people will not tolerate this injustice, and the House of Representatives will hold Alvin Bragg and his unprecedented abuse of power to account."


"The Regime occupying our country and systematically killing America is most afraid of President Donald J. Trump," Arizona Rep. Paul Gosar said in a statement Trump "retruthed" on Truth Social. "Period."


"They only brought this Fake, Corrupt, and Disgraceful Charge against me because I stand with the American People, and they know that I cannot get a fair trial in New York!" Trump said on Truth Social. "These Corrupt Democrat Prosecutors, all from poorly run and very dangerous Democrat run cities, are not going to choose the Republican Nominee, or the next President of the United States!"

Follow InformationLiberation on Twitter, Facebook, Gab, Minds and Telegram.