YouTuber David Pakman on Tuesday deleted his tweet mocking the Christians murdered by transgender school shooter Audrey "Aiden" Hale but refused to apologize and instead painted himself as a victim of "anti-Semitism."

"Alright, too many antisemitic attacks and threats to my family," Pakman said Tuesday afternoon on Twitter. "I've delete the tweet."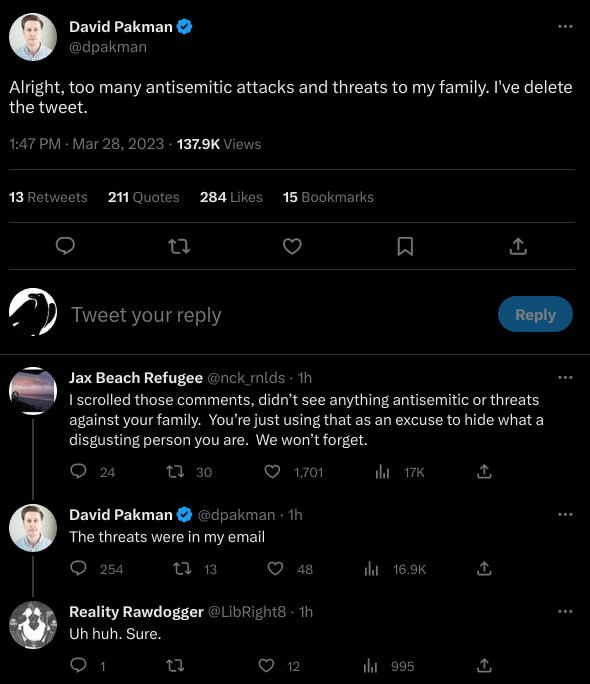 When asked to provide proof, Pakman said the threats "were in my email."

Pakman later deleted the above tweets as well after getting backlash and decided to come up with a new justification for deleting his original tweet which mocked the Christian victims who were killed.

Pakman on Tuesday evening released a video titled "My Tweet Pissed Off a Million People" in which he said that "anyone who knows me knows I would never blame the victims of a mass shooting" and claimed he was only attacking Republican "elected officials" who "offer nothing more than thoughts and prayers" after mass shootings.



"When elected officials offer nothing more than thoughts and prayers and then we have another shooting and another one and another one and they continue to offer nothing more than thoughts and prayers -- they were the target of my ire, not the victims of the shooting," Pakman said. "And that I stand by 100 percent."

"Anyone who knows me knows I would never blame the victims of a mass shooting for that mass shooting," he said.

Pakman's comment belies the fact he specifically blamed the victims by suggesting "they weren't praying enough" "despite being a Christian school."

"Very surprising that there would be a mass shooting at a Christian school, given that lack of prayer is often blamed for these horrible events," Pakman's original tweet said. "Is it possible they weren't praying enough, or correctly, despite being a Christian school?"



Despite offering no apology and taking zero responsibility for his own comments, Pakman did say he's willing to "work" with his opponents to pass a gun control "plan" he came up with to address mass shootings.

"Listen, I tried something to avoid falling into complacency, not everybody liked it, I've been duly chastised -- but how and when do we take action?" Pakman said. "I leave it up to you. So for everyone who's been reaching out furious with me if you're willing to actually talk proactively about what to do and find what can we agree on -- the lowest hanging fruit that must be done to reduce shootings -- I'm willing to talk to you."

"If you're on the side of making threats sending me or my family threats anti-Semitic messages we probably don't have a lot to talk about," Pakman said, positioning himself as a victim. "But anybody reaching out in good faith who says, 'Hey you know, I get that you're angry, I didn't like what you said or at least initially I misunderstood-- misinterpreted it,' maybe we can make some progress I'm more than willing to hear from you and talk."

How gracious!

"Despite the right decrying cancel culture and calls for boycotts, they are now contacting my advertisers and demanding they cancel their ad campaigns," Pakman said on Twitter. "Some are already succeeding. I thought this was a tactic only employed by the left? In any case, I believe we will prevail once it becomes clear that this is a contrived mob."

Incidentally, despite Pakman claiming he's the victim of "cancel culture," just one month ago he said that cancel culture "does not exist."



Follow InformationLiberation on Twitter, Facebook, Gab, Minds and Telegram.