"I Think The Fears Are Not Justified": Jim Cramer Urged Viewers to Buy Silicon Valley Bank Stock Last Month
Chris Menahan
InformationLiberation
Mar. 10, 2023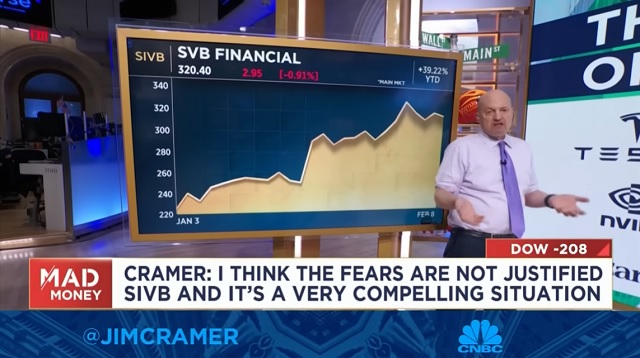 With news of Silicon Valley Bank's collapse sending shockwaves throughout the financial system, video of CNBC host Jim Cramer urging his viewers to purchase stock in the bank last month is now going viral.


From The New York Post:

"This company is a merchant bank with a deposit base that Wall Street has mistakenly been concerned by," Cramer said in the clip.

Cramer touted the fact that the bank was "less dependent upon private equity and venture capital offerings."

He said the stock was the "fourth-worst performer of 2022" though it was worth buying because "being a banker to these immense pools of capital has always been a very good business."
The bank's collapse on Friday marked the "largest bank failure since the Great Recession," according to the AP.


The bank's execs were selling stock while Cramer was urging his viewers to buy.




Customers were seen lining up around the block outside of Silicon Valley Bank in Menlo Park.


"Silicon Valley Bank, the nation's 16th-largest bank, failed after depositors hurried to withdraw money this week amid anxiety over the bank's health," the AP reports. "It was the second biggest bank failure in U.S. history after the collapse of Washington Mutual in 2008."

The bank served mostly technology workers and venture capital-backed companies, including some of the industry's best-known brands.

"This is an extinction-level event for startups," said Garry Tan, CEO of Y Combinator, a startup incubator that launched Airbnb, DoorDash and Dropbox and has referred hundreds of entrepreneurs to the bank.

"I literally have been hearing from hundreds of our founders asking for help on how they can get through this. They are asking, 'Do I have to furlough my workers?'"
Treasury Secretary Janet Yellen, who spent last week traveling to Ukraine to pledge another $10 billion from US taxpayers to the Zelensky regime, said the US banking system "remains resilient" despite SVB's collapse.

"Secretary Yellen expressed full confidence in banking regulators to take appropriate actions in response and noted that the banking system remains resilient and regulators have effective tools to address this type of event," the Treasury Department said in a statement.

Congressman Eric Swalwell (D-CA) is now lobbying for a bailout.


Whether they're bailed out or not will depend entirely on their political connections.

Follow InformationLiberation on Twitter, Facebook, Gab, Minds and Telegram.