U.S. Uses $400K Missile to Shoot Down Chinese 'Spy Balloon,' Destroys All Its Electronics
Chris Menahan
InformationLiberation
Feb. 04, 2023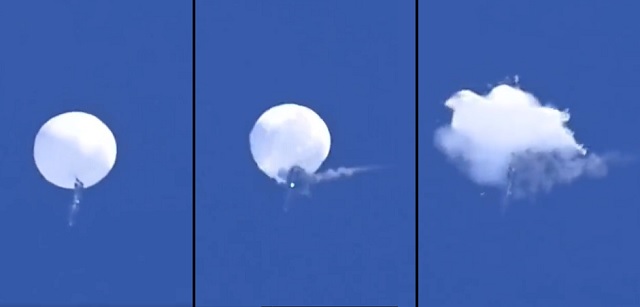 BREAKING BALLOON NEWS: The alleged Chinese "spy balloon" which flew over the US this week and captured the nation's attention was shot down on Saturday by an F-22 fighter pilot using a $400,000 AIM-9 Sidewinder missile.

"NEW: senior defense official tells me an F22 fighter jet fired a single shot at the Chinese spy balloon in U.S. air space over Atlantic Ocean," Pentagon stenographer Jennifer Griffin reported. "The F22s flew from Langley Air Force Base in Virginia. Senior US military official says 1 air to air missile fired by F22 at 58,000 feet (an A9X missile) brought down China spy balloon. The balloon was at 60-65,000 feet when shot."



Each AIM-9 sidewinder costs around $400,000, according to Wikipedia.

Yes, the US could have shot the balloon down with some low-cost bullets and potentially recovered its electronics but this balloon was trying to take our freedoms and had to pay.


We will never know whether it was just a weather balloon as China claimed or the highest-tech spy balloon in history because the rocket apparently made a direct hit on the lower section with all the electronics.

With the balloon finally out of our airspace, Americans can rest easy knowing they're now safe at last. While it's true China has satellites in orbit which can potentially see pennies on the ground of American cities (and the US has the same spying on China), this balloon was different.

This balloon was an evil Chinese balloon and I'm glad to see it dead.




The US is now on war footing with China over #Balloongate.


China flying a "spy balloon" over the US is an outrageous violation of our sovereignty but the US surrounding China with US military bases and pouring tens of billions of dollars of military aid into Taiwan is just about maintaining the "rules-based order!"


Follow InformationLiberation on Twitter, Facebook, Gab, Minds and Telegram.